I got the sweetest Mother's Day gift from my son!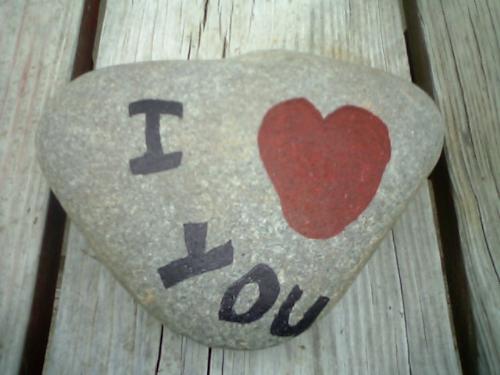 United States
May 13, 2008 2:37pm CST
My 8 year old son went out shopping with my sister to get me a present for Mother's Day. He got to pick it out himself and he decided to spend his own money. What he ended up getting me was a huge rock that weighs about 10-15 pounds. He thinks it is shaped like a heart. It kind of is. Anyway, he brought it home and out in the garage he wrote I love(drew a heart) you. It is so sweet that he came up with it all on his own. He also got me a little picture frame (or picture window ans he called it)and drew a stick figure of himself and put it in the frame. He said the stick figure is just until I put a picture of him in it, but I think I will leave the stick figure in the frame.
5 responses

• United States
13 May 08
Aw. That's adorable. I just have this picture in my head of a little boy walking through a department store or something similar, walking around past all of the traditional gifts before making his way to the home & garden section.. Looking up at whoever's taking him and saying 'That's it!!' and getting weird looks. :P It really is adorable. If he really insists on you putting a picture in the frame, I suppose you could always put the picture over the stick figure, for safe keeping.


• United States
13 May 08
That rock does look alot like a heart! What a sweet thing for your little boy to do! I think I would keep the stick figure in the frame too as it is a drawing from his heart!

• United States
13 May 08
That is very sweet. And I'll bet a bit unexpected. How great your son is so creative. I know that it made you feel good. I'd keepthe stick figure as well. Remember this when he is a teen. lol

• Garden Grove, California
13 May 08
Thats really sweet and he did it all himself. KIds can do such loving things for mothers day it is amazing. One year when my son was about seven he made a picture of himself and his little sister by cutting out a photo then placing it on a pice of gorgeus grained wood and sealing it so I still have that picture and both kids look so sweet and loving. It was awonderful and thoughtful mother's day gift.