Is Safari browser really better for Internet surfing?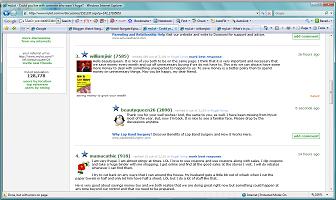 United States
May 13, 2008 8:36pm CST
I was at the iTunes site earlier looking for downloads and they had this huge ad for Safari browser. Supposedly it's superior to IE and even Mozilla. Not sure if that's true. I loved Mozilla when I had it on my other computer. Can anyone tell me whether or not Safari is actually better for online surfing? As compared to the other browsers, that is. And, how do their safety features compare to Mozilla? Would love to know.
3 responses

• Indonesia
14 May 08
Hi beauty... I'm using 4 browsers in my computer. IE7,Firefox 3 beta,Safari, & the last one is Flock. And found IE7 faster than firefox when I opened the program and safari little faster than IE7. When browsing, firefox 3 beta little faster than IE7 & Safari more faster than Firefox. In plugins aspects: IE7 came with most plugins support than Firefox 3 beta. while Safari is the most little plugins support that makes me not using Safari so often.

• United States
16 Jun 08
That sounds like me! I'm always trying out new programs.

• Malaysia
14 May 08
I've been using Safari on my Ipod Touch. For me is good, is very fast, easy to use and had never crashed. Since is a regular internet browser, not a mobile version, can access any webpage from my ipod. I've never tried it on my computer, there I have IE and have a lot of complaints. I might download it and try to use it on my computer, I pretty sure it is better that the IE.

• Philippines
14 May 08
Safari is relatively new so I would say it is Secure. It is true to its claim that it is fast. I hardly use it though since I have customized my firefox so much. Safari as far as I know don't have plug-in or add-on to suit ones needs. Its my alternative browser in case my firefox is having a problem, though very rare.

• United States
16 Jun 08
When I had Firefox, I had it customized as well to suit my needs. Then my computer crashed and burned and took all my programs with it. I'm sort of starting from scratch. Thanks for the recommendations. I didn't find much success with Opera. That's why I'm fishing around for alternatives. Thanks for the ideas.