Does anyone else like to Play The SImms 2 on the computer?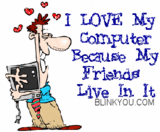 United States
6 responses


• Indonesia
2 Nov 06
yes i do i always play the sims series

• Philippines
2 Nov 06
I also got addicted to The Sims series. I've played both The Sims 1 and 2. I also played almost all the expansion packs. However, I'm not playing it right now because it takes a lot of time and I don't have much free time nowadays. I might play it again next year.

• United States
11 Nov 06
I love the sims but I can't install it on my old computer not enough space

• Philippines
10 Nov 06
yes! i got hooked when my sister introduced me to this game. now i play it everyday.