Do you ever wear a hat?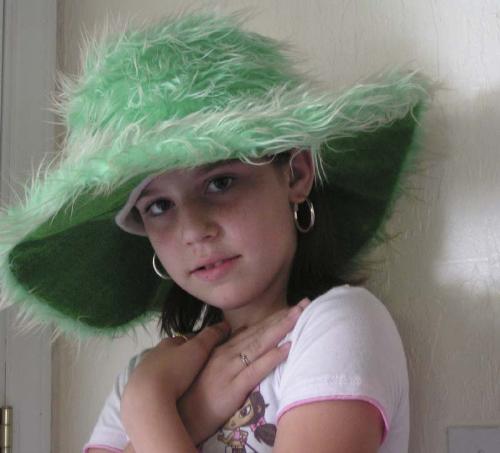 United States
May 15, 2008 6:50pm CST
I'm not just talking about baseball caps, etc. I mean does anyone out there ever wear a hat when they dress up. We have a couple of ladies in our church that wear hats and they always look so nice. I was taking pictures of a young girl in different hats and thought she looked so nice in them--even the funny ones. I spend a lot of time in casual clothes, but I think I may wear a hat to church one of these days. I miss pretty hats on ladies and dressy hats on men. (Does that tell you my age?) What do you think about wearing a hat when you are dressed up?
5 responses

• United States
16 May 08
When my hair first started falling out because I was sick, I wore hats. Baseball caps just didn't go with everything, so I wore casual hats, and I had a couple hats that I wore exclusively to church. One hat in particular I got a lot of compliments on. It was red, with a red satin band around the middle, with like a red flower on the side.

• United States
16 May 08
I'll bet you looked great in it too!

• United States
16 May 08
Mmm...well I AM a confirmed hat wearer, and have been all my life. Although it's been ages since I wore any kind of "fancy" hat...think the last time I did that was when I was a kid attending church...my I can still remember those pretty Easter bonnets I used to wear. But now...now I'm a confirmed baseball cap wearing person, but not just any kind..I customized it with all Native American style beadwork on it...took me ages to do

• United States
16 May 08
Okay, picture please!! I'll bet it is stunning, knowing your work.

• United States
19 May 08
well as soon as I get some film would love to photograph it for you



• United States
16 May 08
I'm going to have to find a pretty hat and wear it somewhere. Someone has to get this thing going again!!! Who would dare laugh at you!!

• United States
19 May 08
No, I only wear baseball hats. Sometimes I will wear a straw hat on vacation. Otherwise, I use normally wear baseball hats. I love other types of hats, too. So it depends on the person and if they want to wear one with their outfit. Pablo