hello, I can't seem to get a hold of the Elmo T,M.X. How sad

United States
7 responses


• United States
3 Nov 06
they r sold out everywhere. toys r us had them in today. The sold out in less than a hour. I did get 2 so I just wait now for more. LOL thanks

• United States
2 Nov 06
very unlikley you will find one for less then 200.00. my mother in law got one for my daughter, she only paid 40.00 but i have seen them for as high as fifteen hundred in auction. she got one out of pure luck, they were getting ready to go back to florida for the winter and she went x-mas shopping and just happend to be there the morning they were stocked.

• United States
2 Nov 06
What a great buy for her. I will not pay that price for it. I just want to sell it. She was really lucky

• United States
2 Nov 06
Everyone here is sold out, we haven't been able to get any either.

• United States
2 Nov 06
I can't believe it the craze for this doll. I gave my card to 2 cashiers to call me. I will give them a free item from my website. LOL I want about for to resell. :)

• United States
2 Nov 06
hIYA,How ya doing? I was wondering..how much are the Elmos there? cause I looked online.(To see what all the hype was about this year lol) And I found them from $80 - $160 holy cow!!!! And I was wondering if you checked out Ebay, or any online sites? Last year Ebay was my last hope in Finding my sons video game no one hhere any where had them left..Just wondering,,Ohh check out Amazon.com too...they have some great deals there.,.have a good one and hope i was some help!

• United States
2 Nov 06
there $39.99 here in Miami if you can get one. I looked all over. The darn thing is to high for me to buy to resell it. I will buy one if I can get it for less than $50.00. I have looked on amazon their high as well.

• United States
3 Nov 06
dO YOU KNOW what i found looking for an elmo for ya? I found a barbie with an elmo shirt on, holding hands with this mini ELMO, AND HE GIGGLES WHEN you tickled him..its sooo cute!! its on Ebay right now and has 15 mins om it..if its anyhting u could ,, or anyone else use let me know this is the link.. http://cgi.ebay.com/HOT-BARBIE-Loves-TICKLE-ME-ELMO-TMX-Doll-Set-T-M-X_W0QQitemZ300042686971QQihZ020QQcategoryZ19229QQrdZ1QQcmdZViewItem

• United States
3 Nov 06
Oh your so sweet for helping me. Those are at walmart for $19.99 I also am watching 2 for .75. I am not really looking for those. I did buy 2 elmo dolls. I'll try to wait till December to list them.


• United States
3 Nov 06
oh man, I think those dolls are cute but I have two small kids who would love to have them and I could not see buying them just to resell, or in fact, buying them at what people are auctioning them off at....You would think they were like gold or something...I am not judging at all here so do not get me wrong, I just have a hard time understanding how some people will actually pay $1500.00 for a doll tht after christmas will go back down to that price of however much it is, I mean you know what I mean? I know how some people love to brighten their kids and love seeing their faces at christmas when they open up the gift they always wanted but $1500.00? that is just insane don't you think? Come on you moms I know that you think this way as me. I mean, it would be hard for me to buy one knowing that my own kids would love it and try to resell it, I guess I would feel guilty for reselling but if you do get your hands on one and are able to resell for a nice little profit GOOD FOR YOU
@
!!!!

• United States
3 Nov 06
I agree with you a little bit. If my daughter wanted one I could not resell it. I do have 2 That I will be reselling in December. I also have a few clerks on the look out in toys r us. I hear so many people say it is very nice. I have also read a few reviews where parents said it got annoying to listen to. I just know I will use the profits for my credit report. And $10 of each sold goes to feed the children. I wish I could get a lot more. Thank goodness my daughter is 12. She had to have the baby alive doll. I bought 5 and will resell 4. along with some other hot ticket items. Thanks for your thoughts. I'll let you know if I get more LOL :)

• United States
16 Dec 06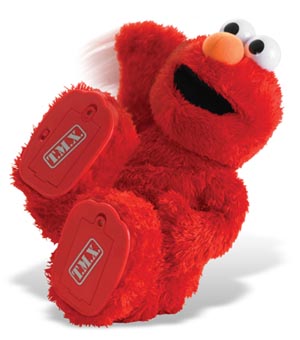 Walmart announced they received thousands to distribute. Check around the local Walmart stores. You may be lucky.

• United States
16 Dec 06
We went shopping at a Target in a not very shopped area and my hubby found one sitting on a shelf! we weren't even looking but our daughter seems intrigued by them so it was nice to find one for her.