Hello, Has anyone pruchased the baby alive doll yet.

United States
November 1, 2006 11:59pm CST
My daughter had the hardest time yesterday. I bought 4 and she begged to get one. She wanted it for so long. But She had no idea I paid for hers in walmart. LOL It was so funny. I went to walmart and left her items on with $1.17 to pay. Yes I know But I have no where to hide the stuff. So she is happy. The pampers do leak thou..
4 responses

• United States
5 Dec 06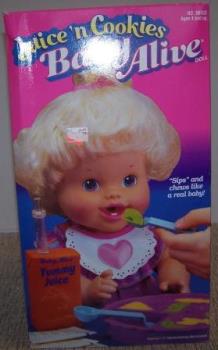 i got the old one for my daughter and I am getting the new one for my other daughter. How much is the new one???

• United States
5 Dec 06
I bought it a 37.00 from toys r us a while ago.

• United States
26 Nov 06
My mom got this for my daugher for christmas, i cant wait to see it in action

• United States
5 Dec 06
I can't believe how sweet she is. my daughter is 12 and could not wait. I wish I cold get her an english elmo. LOL We have the spanish version and it's so funny to see. The baby alive pampers leak. I buy the store brand for my daughters doll.

• United States
11 Dec 07
I had the old one when I was a kid. I am excited to see it come back with such popularity. I am selling instructions on how to make food for it on Ebay if anyone is interested. The food can be really costly.