I figured out my cat can't smell

United States
May 18, 2008 4:43pm CST
Since my cat was hit by a bat by someone she has been blind in one eye. I figured out yesterday that he lost his sense of smell too. I couldn't figure out why he never went after the mouse we had in the house as he is my outdoor/indoor cat. Well I put some food out and realized that until the other cat went to eat he didn't. I tested it then after that with treats and realized that he can not smell. Poor thing is blind in one eye and can't smell yet still a wonderful cat.
7 responses

• Philippines
18 May 08
too bad. i am sure your cat is blessed with other great traits and is still wonderful. hug your cat for me.

• United States
19 May 08
should he be going outside? he is handicapped... my cat is healthy and still an indoor cat because i prefer to overprotect him from society's crap...


• United States
19 May 08
I hope that low life finds his own from the beating he did to that poor cat!! I wish I knew who did it for I'd be glad to take a bat to his head!! He's so lucky to have you to love and love him back!! Bless your sweet and thoughtful heart Tricia!!

• United States
19 May 08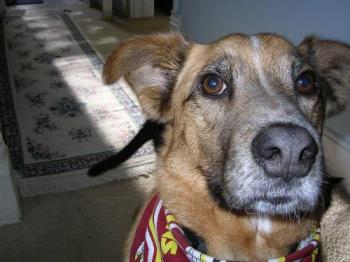 Poor thing. It must have been quite a transition for him to adjust to. At least, he has you to look after him and doesn't have to fend for himself with his injuries. I've often joked that my dog has almost no sense of smell, because he is terrible at finding food on the floor by scent, I usually have to point at it for him to find it, unless he saw it drop. I wonder how he made it on his own when he was a stray. Probably got by on his winning personality.

• United States
18 May 08
Oh how sad. Why in the world did someone hit your cat with a bat? I don't understand how people can be so cruel. I'll admit I've been upset at my critters at some time or another (no different than my kids!), but I could never be abusive like that.

• United States
18 May 08
What a poor baby! I feel bad for your kitty. Whoever hit your cat with a baseball bat needs to be hit themselves with one! My kitty is in the hospital right now with a fractured back leg my daughter shut the poor kitties leg in the door I get to bring her home tommorow.