I eat a lot but dont gain calories, how harmful could it be?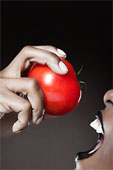 India
May 19, 2008 5:09am CST
I love to eat whether it be healthy fruits or not so healthy pizzas, cheese burgers, sodas, chocolates, ice-creams or anything. My mouth is continously chewing on something or the other, even while im typing this. But the fact is i never gain an inch of extra pound. I just stay the same way I am, may b my body mechanism is just like that. Im not too slender nor obese, not even a little bit fat.Beacuse i dont gain any weight, i continue to eat whatever i want whenever i want. Could this be of any problem later in life? I know if we gain calories, our health is at risk, but can i be at risk even if i dont?
3 responses

• United States
19 May 08
The only thing I would be careful of if I were you is the amount of high fat foods you eat, because even though you do not gain weight, it can still cause a build-up in your arteries, leading to heart attacks. I know this because I had an uncle who was always very thin, regardless of the fact that he ate like a horse. He had a heart attack that killed him at age 58. The doctor said that his arteries were hard as a rock, caused by all of the bacon, eggs, sausage, and other high-fat foods he ate on a regular basis.

• India
19 May 08
Yeah i always thought there has to be something or the other connected if not gaining weight. I do understand the situation, and i ll try to be away from what you mentioned, away from high-fat food. Well thanx 4 ur response, really appeciate it, just wanted to set my eating habits right, of course i wont stop munching other food...

• United States
19 May 08
You just have a high metabolism, but it probably will slow down as you get older. If I were you, I would make a concious effort now to regulate what you are eating. Try to include lots of whole, natural foods such as fruits and vegetables, and lean protein. Your body will thank you for it in the long run.

• United States
19 May 08
Young people have higher metabolisms than older people. This allows younger people to eat more than older people. If you continue to eat like you are after about age 30 (it varies between people) you will gain weight.

• India
19 May 08
Well i hope so not, but what if i just be sure to eat less calorie food as the above responder mentioned? I still want to keep on eating, just on the not -so-worse food now.


• India
19 May 08
Yeah i think so too, as long as i do not gain weight all must be good, well hopefully. Thanx 4 ur response.