Growing Rhubarb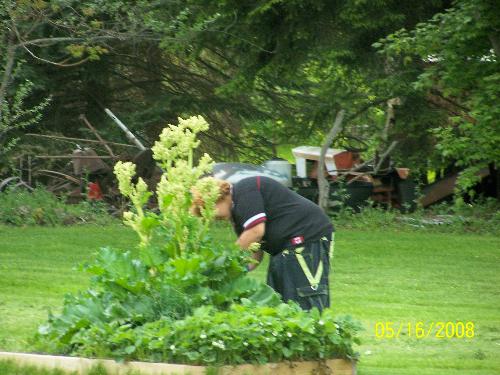 United States
May 19, 2008 6:25am CST
So I planted Rhubarb last year in one of my veggie gardens..I love the stuff but have never grown it before..Now I knew not to harvest it last yr so I didnt but then this yr it went nuts on me and before I knew it I had a plant that was HUGE....Not knowing what to do my husband just hacked it down this weekend since it went to seed.... Questions are will it continue to grow and be harvestable this yr or will I have to wait until next yr now before I can harvest it? At what stage of growth, time of yr etc should I harvest it? Thanks in advance for any help/suggestions and tips.

3 responses

• Canada
19 May 08
We have Rhubarb growing in our backyard garden. It was here when we bought the property. I love it. You can start to harvest your Rhubarb as soon as the base of each stem turns red. You can harvest it over and over as it just keeps growing. One thing that is important is to cut down any stocks that go to seed. They will be green and tall, very easy to spot. The fact that it goes to seed takes the energy away from the Rhubarb and puts that energy into growing those seeds. Mmmmm Rhubarb and strawberries.

• United States
19 May 08
OOHHHH just the BASE of the stalks have to be red?!? Well hell thats part of my problem then since I was waiting for the ENTIRE stalk to be red LOL... Yea right next to it we have a strawberry patch and I can't wait to make rhubarb/strawberry pie for the family...I like having rhubarb just dipped in sugar LOL thanks so much for replying


• Canada
19 May 08
Great advice....all you "barb" growers! Some "heritage" rhubarbs don't go red at the base...but, harvesting at any time, will not hurt it! Remember that rhubarb is a heavy feeder...mulch often with manure and rotted straw...keep well watered, at the base, as leaves are so big, rain does not get to the roots. I start harvesting in early spring, harvest 'til first hard frost kills it back. If you have an area in your yard, garden...where you don't wish growth of weeds, etc...lay the cut-off leaves on that area. Cheers!

• United States
19 May 08
I'm of no help when it comes to all things green fingered, but I just thought I'd share a little tidbit of my childhood in Scotland. We used to have a wild rhubarb patch that grew in our back garden and we would pick it, wash it and then eat it by dipping the end in a bag of sugar....delicious, although, without getting too gross, it usually resulted in a mad dash to the bathroom after half a stalk.

• Regina, Saskatchewan
19 May 08
Rhubarb should have their flowers cut at the base as soon as the flowers are ready to go to seed. You don't have to worry about them not coming back next year, because they will. I've found with rhubarb that it's very tenacious and really hard to get rid of, so just keep picking the leaves and let nature takes it's course.