Amanda and Mark (Still dating, relationship going strong!!)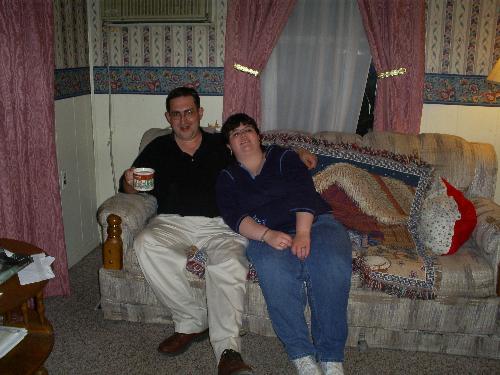 United States
May 19, 2008 9:20am CST
Hello everyone!! I have had a lot of things going on lately and unexpected things coming up so I haven't got to be on here much lately but hopefully things have calmed down now and I can be on here more. I thought I would give you an update on Amanda and Mark since I haven't said anything for a while. He is still coming to see her every week, their relationship seems to be getting stronger all the time. It is very sweet to see. They have really fallen for each other and it does my heart good. He keeps saying that he wants them to date for two to four years to make sure that they really know they are right for each other. But my mother's instinct tells me they won't wait that long, however, my instinct can be wrong too LOL. He hasn't come out and asked her to marry him but he has said that he would like for them to get married in his backyard. He has taken Amanda to his home to let her see where he lives and she said he has a big back yard that has lots of shade and would be a nice place to get married LOL. He has taken her to Mississippi three or four times and has let her meet several of his family members. He still has some he wants her to meet. He told her he wants her to go with him to his family Thanksgiving dinner, although that is several months off LOL. Hope you are all doing great and I look forward to hearing from you. Shelia
3 responses

• Canada
19 May 08
I so wanted to ask if Amanda was still seeing Mark when I answered your post re: the court date but didn't think it would be appropriate to ask then and low and behold when I went to the next post to answer here I am getting my answer. Yes you are no doubt right they won't wait for another 3 or 4 years but that's OK MOM. lol. Take Care and keep in touch.

• United States
19 May 08
Ha! Ha! It is pretty obvious isn't it? I know she is head over heels for him and he appears to be for her LOL!!! I appreciate you responding. Have a terrific day!!! SheliaLee

• United Kingdom
24 May 08
I am so happy to hear all this as she deserves all the Happiness I really hope though that they will take it slowly maybe not 4 years lol as that is a bit long But 1-2 years would be nice I know that they are devoted to one another but Amanda still has a lot to deal with and it could knock her a bit, so I hope that Mark will be ready for that, as she could become a bit Distant for a while and he needs to know that she will need him It will all work out fine I am sure of it and she deserves it so much Give her my Love and Hugs You to Sweetie

• United States
26 May 08
Thanks for that terrific advice hon. Mark talks to her about the situation from time to time wanting to make sure that she is okay. He is truly supportive. She has told me that her is her best friend and can talk to him about anything. Bless her heart, she was afraid that would hurt my feelings. I told her "No, when you love somebody that is the way it is supposed to be." She is so precious, she is always afraid of hurting someone's feelings. I'm so thankful that I was blessed to be her mother.

• United States
20 May 08
That is wonderful Shelia! It sounds like not only does she have a caring man, but a sensible one as well. People can talk about spontaneous things all they want, but when it comes down to it, you need some common sense in a relationship! Although I get the feeling they will be married sooner than four years too. And who could blame them? I'm sure they are eager to start a life together. It is wonderful that there are still men out there who are patient and courteous to the lady in their lives, and to the family of the one they love.

• United States
21 May 08
Hi Amber!!! I agree with you completely, they have to use common sense. Amanda and I have talked about this a great deal and I have told her that Mark is wise to want to wait a while. They have only been dating three months so they still have a lot to learn about each other, although they have talked about so many things already that her dad and I never even thought to talk about when we were dating. But I think that is wonderful because they need to discuss important matters now instead of waiting until after they are married. Take care!!!