Inexpensive Landscaping

United States
May 19, 2008 9:30am CST
I've never had lots of money to fulfill the vision I had of our acre lot, so I have used what was here when we moved in.. Our yard is bordered by fields and when we moved in, there was just an ugly hump with quack grass and other unsightly weeds all around the borders.. So slowly over the years one of the things I've transplanted is lilacs from the three varieties which were already here.. Purple, white, and very dark purple. I had to dig up the new shoots around the base of the lilac trees, and of course you have to have enough roots for them to be transplanted.. and then must water everyday for awhile.. so early spring is a good time for this! The white lilac throws out the best shoots.. and the dark purple is very hard to find good shoots to transplant! But I've gotten a couple. All together I now have six or seven additional lilac trees by doing this, and they form parts of my new much more attractive border. Do you have any no cost (or very inexpensive) ideas for landscaping you have done or want to do?

10 responses

• United States
19 May 08
I have done a lot of transplanting on my property as well through the years. Three of the most hearty varieties I have gotten for free were Lilly of the Valley, some blue grass which I don't know the name, and tiger lillies. I have also transplanted a lot of iris' through the years that were here when I moved in.

• United States
19 May 08
5 years ago I planted a couple lily of the valleys and 8 Asiatic Lilies. Now they have multiplied ten fold at least. Cheap cost for a years worth of aiting to see these multiply. Native grasses are also cheap, good looking and hardy. HAPPY POSTINGS FROM GRANDPA BOB !!~

• United States
22 May 08
Wait until I get my own future property someday. And I will start my own composting business within my own home. I will do some certain landscaping, adding flowers, decorations, and couple small trees with beautiful stuff on it. I would add flowers and lighting along my driveway. What do you guys think? Would that look really awesome?

• United States
19 May 08
Im afraid im not much of a gardener but i envy those who are !you sound as if you have a beautifull yard i just love lilac

• United States
20 May 08
..it's really kind of awesome if the lilacs, apple and plum trees all bloom at once.. Sure smell good too!

• United States
19 May 08
We moved to this place a year and a half ago. Since then we have divided iris' and tulips. I have gotten 'flag' lilies and a rose bush start off of a neighbor. I have gotten a lilac bush start off of another neighbor. We moved another flowering plant to another part of the yard.

• United States
20 May 08
A friend gave me some peony shoots a few years back, and now I've separated them, and they are growing good and are perfect for our sunny border.. much better than the weeds that used to be there! and thick, thick quack grass..

• United States
19 May 08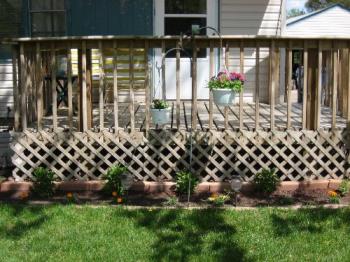 When we bought our house 5 years ago the cement steps to the front door were falling apart, the front lawn was a field of dried brown grass with a lot of dirt hills, the area in front of the house was just dirt. Now after 5 years we added this deck, spent hundreds of dollars on the lawn getting it to this lush green soft carpet. I made this front flower bed in front of the deck. It is so pretty in late spring with the phloxx flowering. I've planted many flowers etc in a bed to the right in this phot and the area to the left I also built an area with lilies, lily of the valley, snow on the mountain, columbine,jacobs ladder and a few hostas. It ook 5 years but boy do the neighbors compliment me on it. Lots of hard work and a couple hundred dollars spent each year but it is great looking now. HAPPY POSTINGS FROM GRANDPA BOB !!~

• United States
20 May 08
We had lilac, apple, plum, rhubarb, grape, and hostas when we moved in, so I've had lots to work and play with! And one night, under the light of a full moon I snuck (yes snuck) next door to the abandoned barn and pilfered some lily of the valley (I had spied like millions of them in there!) I also took some violets as I needed lots of ground cover. And finally this year the lilies of the valley have really taken off.. and the violets are nice and thick crowding out lots of weeds.. I've managed to tame three very unruly borders! But haven't looked at the one by the short ledge of rocks out front.. it's usually two massive weed pullings out there each year! Phew! Need some kind of easy and preferably free ground cover for on top of the rocks, as it's a bit dry for the violets, though they are still multiplying.. I'm getting in the mood to go see just what's going on out there.. I'm usually pleasantly surprised in one way or another.. Soon as I look though, I'll be weeding!


• United States
19 May 08
Good job! We're renting here so I can't do much of anything, but I did pull up some daffodil, iris and purple hyacinth bulbs from around the area and replant them in various spots. All of them have taken and flowered, so I guess I did ok. My husband got 10 tree seedlings for $10 from the Arbor Day Foundation and it came with a free lilac thrown in. All are planted in large pots now, waiting until we get our own home to replant. There's a lilac bush already here too, so I may try to get a couple of shoots from it too. I love free!

• United States
20 May 08
Free is wonderful! We got two oak trees to plant and two birch trees, two different years form the Arbor society too.. then we lost track of them (the society that is). Good idea getting them ahead of time and saving them!

• United States
19 May 08
I have lime trees, i have planted from seeds ,lemon trees, avacado trees.these were all planted from seeds of the things i bought from the store..It takes awhile but it is worth the effort...

• United States
20 May 08
I love that! I need to do that more often.. Tried pear seeds, but nothing showed up.. gotta try it again!

• India
23 Sep 08
My nighbour is very fond of landscaping. She had dug a small pit not vey large in a corner that you can do too with a shovel and found some round while stones, she actually collected thm from the river she had visited once for a picnic and has plaed them at th bottom and arnd the edges of the pit and then cemented the whole thing, and has filled it with water and have left some shells in it the water dries up and she again fill it in three four days while watering it and it looks really pretty. then she also has created a mound of dirt and then lined it with stones and planted some shrups on it and then dug tunnels through it and she has left rabbits there just two pairs and its so lovely. they are real nice ideas and just takes some imagination and not a lot of money. WHen you go for walks in the filed you just keep your eyes open , for drift wood pieces and some good shrupbs or wild flowers and I am sure you can do wonders with your gardens.

• United States
24 Sep 08
Hey those are some great ideas! Especially the little cement pond idea..

• India
24 Sep 08
you an also make hanging pots by slicing bamboo sticks in halves and arranging them in square baskets and tying them with thin but strong strings and fill them with lots of moss and may be plant orchids or other flowers or hanging plants in them-these are all my neighbours ideas I am sharing as I do not have a garden and with two small kids(One toddler) no time for gardening too.I am hoping to start though in a year or two.

• United States
24 Oct 08
My husband and I are big weekend DIY'ers and love doing outdoor projects. The last thing we did we to build a fire pit and sitting area in the backyard beside a small pond. We put the pond in some time back. Here is a link to the article I wrote on how to do the fire pit in case you might want to do something similar. http://www.ehow.com/how_4513545_build-outdoor-fire-pit-area.html

• United States
18 Nov 08
Awesome!! I looked at the enlarged picture and your fire pit and area is very nice! Ours is just the place where we always throw shrubbery and I mow around it. Unfortunately we only use the bonfire about once a year! Silly, ain't we? It's a goal of mine to get us out there sitting at it with a warm fire much more often! Your pond sounds very nice too!



• United States
24 Sep 08
I have transplanted Lilac trees this way. I have always wanted to have lots of Lilac trees. Now I don't get to garden much where I live. But the last place I lived I had the village compost literally in my back yard. I used to visit it every day, getting free, rich compost and almost daily I found plants, roots or bulbs from the pile, that others had thrown out. So I would suggest you find out if you have a compost in your town or village and start visiting it often, so you can look for free stuff.

• United States
22 May 08
Hey, landscaping is always awesome; the way of decorating/beautifying your property. For my own future homebased business, I will add roses and all that stuff to the front while I have my machines and equipment in the back. On my windowsills I will add beautiful flowers. Alongside my driveway, I will also add beautiful flowers and some lighting, that way vehicles will see the driveway. Hey, as long as you find cheaper landscaping stuff. I would do that, too. I would call my homebased business within my residence, JAKESTER'S COMPOSTING.