F4 now has become JVKV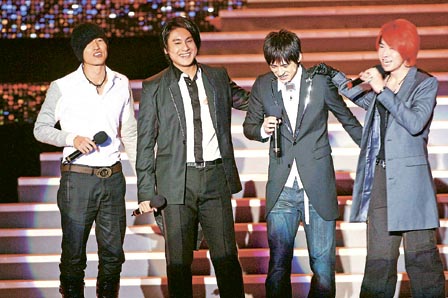 Malaysia
3 responses

• Philippines
21 May 08
wow,, that's news to me... I'd love to chat more about them. I haven't heard about them lately..and i would love to hear news about them they had a concert here before, and i regret not going being able to watch them in concert.

• Malaysia
23 May 08
ok hope we can really chat about them nicely...I like Vic zhou...so who do you like at first...where country do you stay....cos i want to know where is the concert they hav held on...I never meet other 3 of them...but i met zai zai for 2 times...haha i shake hand wit him too...so exciting...hope can meet him again..

• Philippines
23 May 08
I like Vic Zhou too..he's very different compared to the three...hehe,, who's zai zai? I'm sorry I don't know him...you're so lucky you were able to shake hands!! I live in the Philippines and Meteor Garden was so famous here and F4 went here for a visit and they also had a concert...a lot of people went to see them :) I hope they hold another concert here again :)

• Malaysia
27 May 08
Zai zai mean vic zhou la ok yup i feel myself quite lucky...I like him really admire...you have anything that you know abt him to share? what i know currenlty he is now goin to hav a new drama...

• Philippines
20 May 08
oh really..is this true..if it is, then it is great news. i love f4 and am a fan of meteor garden!

• Malaysia
20 May 08
what u mean by it that true? yup me too s the big fans of Vic....hope we can continue chat more about them...especially Vic la of cos..