Finally dailyclicks paid me.

May 21, 2008 12:41am CST
I was so worried with dailyclicks. Because I had 85$ in there and they were delaying to make payment. I made a payout request when my earning was 25$. But it took 3 months to come in my home. Actually I was so frustrated that I stopped clicking in dailyclicks. Currently I had 96$ there because my refferals are active. After receiving the payout I have decided to start clicking there again. I have no scanner for my computer. So, I am sorry for not show you the payment proof.
3 responses

• Philippines
27 Jun 08
Congratulations to you! It's sort of relieving whenever I read that someone got paid.


• United States
1 Jul 08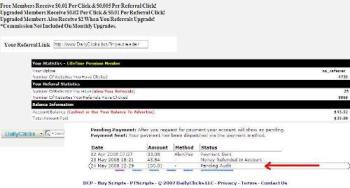 Congratulations! Always nice to hear they're still paying. I have received one payout from them so far, back in April. The second request got returned to my account like so many others, but I was happy to make a new request for much higher. I'm waiting on a $100 payout now and with a semi-active downline I've already earned over $43 since resubmitting my 2nd payout request just over a month ago.