Another of my Veggies

United States
May 23, 2008 1:53am CST
This is one of a few bush pole beans that have stuck their greens out from the soil begging for more water and sunshine. I planted about 25 beans and I think about 15 are above ground or breaking the soil in it's attempt to be free. I planted them along the garage and they will climb and twine into the siding there. What do you do with your garden fresh beans? Can them at all? Freeze them right from the vine? Any type of special recipes you'd like to share for a bean dish at all? We steam ours in a little water and a piece of bacon and butter most times. We freeze them after washing them right from the vine as well. HAPPY POSTINGS FROM GRANDPA BOB!!~
7 responses

• United States
23 May 08
What, no picture? Say it isn't so! I've shown you a picture of my purple bush bean in another discussion and it's still doing great in its KFC chicken bucket. I've got a few others as well as regular green bush beans too that are all doing well, but that one is by far the best of the bunch. Since they're a bush variety, do you expect them to really need climbing support? I hope mine don't, because I didn't plan for that. I'm having a hard enough time trying to figure out what to do with my snap peas, although I did try something new last night when I planted a few more peas in the ground. I don't know if I'll yield enough for more than a few meals, since I don't have room for all that many plants, but if I do, I'll freeze some of them. I have a vacuum sealer and it's quick work to blanch and pop them in that then on to the freezer.

• United States
23 May 08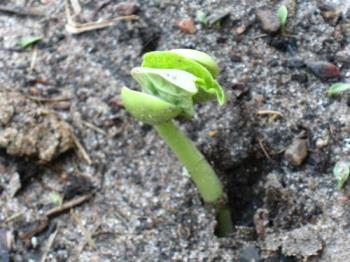 I know the photo was attatched when I submitted this. Here it is again. (hopefully) Well I see it attatched but shall see if it goes through after submitting. They seem to climb up and grab onto the foundation and sising of the garage. If not I plant them elsewhere next year. Oh and I also give our daughter, minnie, a bag of them. HAPPY POSTINGS FROM GRANDPA BOB !!~

• United States
23 May 08
I think seedlings are so cute when they first sprout! I've got more sugar snap peas that just broke ground a couple of days ago. I don't know what's going on with the picture thing. It happened to me the one time the other day, but it's been fine since.

• United States
23 May 08
Yeah these weekend glitches are annoying at the least. Seems like once the weekend rolls around everyone that tends to myLot leaves or something. HAPPY POSTINGS FROM GRANDPA BOB!!~

• United States
23 May 08
I love to grow and harvest green beans so I tend to overdo it. Mine are just now coming up, too. I've been freezing them the last few years but got a new canner recently so I'll can them this year. I prefer them canned because they're already cooked. I like to cook them with new potatoes and a couple of small chunks of ham. I also like them with garlic and salt.

• United States
23 May 08
Can never overdo gardening of any type. There's always someone in the family or friends that could use free veggies I think. HAPPY POSTINGS FROM GRANDPA BOB!!~

• United States
23 May 08
Dont forget you also give us a bag of those beans sometimes too.

• United States
23 May 08
Oh I do don't I? HAPPY POSTINGS FROM DADDY !!~

• Philippines
23 May 08
Hi GRANDPA BOB! I do sometimes steam it and put some butter on top of it. However, most of the time I sautee it with garlic and onion then add a cup of water to the garlic, onion and ground beef then add cup of water. When ground beef is cooked, I put the beans. Sometimes I also add carrots. If you have beef cube, you can put it before the beans so it will be more tasty. Take Care and God Bless! Happy Mylotting!


• United States
23 May 08
I love fresh green beans, but we haven't grown any in years..I make mine with water and either chicken or vegetable stock because I stay away from pork, a little garlic and onion and it gives the beans a great flavor...

• United States
29 May 08
None of my beans or peanuts have come up yet.

I've planted them almost a month ago at that but I used seeds from a pkg that was a few years old. Maybe I'll replant using the seeds from last years pods that I let mature. I seem to have more luck with them coming up than I do with the pkg seeds. As for the peanuts, they were very old seeds and are hard to find so guess no peanut plants this year. I usually freeze my beans but no matter how I do it, they end up being soggy and not tasting good at all. Don't know what I'm doing wrong either.

• United States
23 May 08
I never learned to can them, maybe I'll talk my son into learning how to do it and he can teach me.. He's the one who likes to cook at this house..