Do we really LOVE our LIVER?

Philippines
May 24, 2008 9:57am CST
Lately I was having a problem with my health, and this time I need to avoid a lot of foods so as not to damage the liver more, and am taking medicines to protect it. I never knew about the cause of liver damage after I got into it. Just want to share these things for everybody to keep in mind, and to avoid having the same problem as me. The main causes of liver damage are: 1. Sleeping too late and waking up too late are main cause. 2. Not urinating in the morning. 3. Too much eating... 4. Skipping breakfast. 5. Consuming too much medication. 6. Consuming too much preservatives, additives, food coloring, and artificial sweetener. 7. Consuming unhealthy cooking oil. As much as possible reduce cooking oil use when frying, which includes even the best cooking oils like olive oil.. Do not consume fried foods when you are tired, except if the body is very fit. 8. Consuming raw (overly done) foods also add to the burden of liver. Veggies should be eaten raw or cooked 3-5 parts. Fried veggies should be finished in one sitting, do not store. We should prevent this without necessarily spending more. We just have to adopt a good daily lifestyle and eating habits. Maintaining good eating habits and time condition are very important for our bodies to absorb and get rid of unnecessary chemicals according to "schedule."
7 responses

• India
28 May 08
Well after going through the list of yours regarding the liver spoiling activities, I feel that way I just need a little improvement not much. I usually avoid oily food only at times I indulge in eating fried foods, which is rare. Medication also I do not take rarely a pill in a week for headache not more than that. I do feel that I love my liver.

• Philippines
28 May 08
Very good! We really need to love our liver and I'm glad to know you do.

• China
30 May 08
My liver take good care of me so I need to take good care of it but my problem is how? It is sad that my work demand so much time. This is how my liver works , he he .

• United States
25 May 08
by the way long which part of our body is the liver?bcoz i feel pain at my left side of my stomach.

• Philippines
25 May 08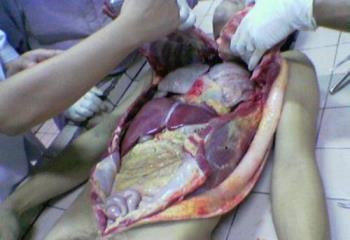 It is located at the upper right side of the stomach. By the way, find time to ask your doctor about that pain in your stomach, you have to be very careful with your health.

•
31 May 08
Liver is very important, that I can tell you right off. It may well be one of the most important organ structure in our entire body for what it does, but for simplicity, I won't write a paragraph explaining all the wonders it does. I have to say, that that list is almost exactly like the one I give out to my patients who have liver problems, but I'd say never to eat ANY fried foods if you every have liver problems. That can lead to some of the most severe diseases. Hope this helped :)

• Philippines
30 May 08
That's true. Too much eating can damage our liver. Most people who eat improperly combined meals have their liver partially filled with stones, particles of cholesterol and bilirubin ( waste from the breakdown of red blood cells that were not removed from the body for various reasons).

• South Korea
29 May 08
A little bit scary...I'm guilty with nos. 1,3,4,6 I guess , this is already a wakeup call for me. Thanks for sharing . I didn't know that you had a liver problem. I hope you're ok now. What I thought was, you just had a flu or something.

• United States
24 May 08
thanx a lot long for sharing this very informative discussion.actually i love eating too much especially rice..waaaaaaaaaa!but i cant help it bcoz thats the food we used to eat back home.so far i eat 25 lbs rice for one month.Is that good or bad?hmmm..

• Netherlands
24 May 08
Yah Long, we only have one liver so we should love and take good care of it. I think beter to have one kidney than without a liver.. am I right?;) So, as a friendly advise.. think what you eat! And do some exercise regularly, even just a simple stretching at your desk.. but make sure that no one sees you...hahahaha...