Do you think my baby Rayray looks more like a Chihuahua or a Jack Russell?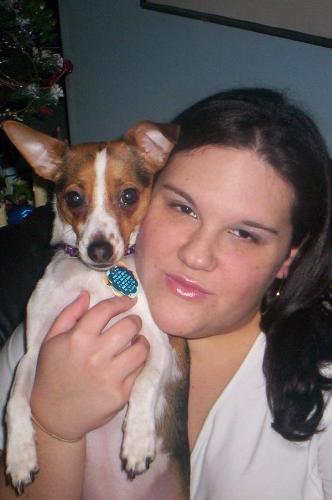 United States
8 responses

• United States
26 May 08
In my opinion,from looking at the pictures I would have to say that your dog Rayray look more like a chihuahua because she reminds me of a chihuahua we used to have, but she is very cute however,and I think all chihuahua type dogs love to make noise lol.

• United States
27 May 08
Yep , she sure loves to yap it up lol . Her face has many of the chi features too.

• United States
28 May 08
lol she defitnally sounds like our chihuahuas then because they love to yap it up,constantly,especially when people are trying to sleep lol.


•
18 Jun 08
Aww she is absolutely adorable! I have a long haired chihuahua at the moment he's larger that yours. I had a jack russell before him tho. Your rayray has the colours that my jack russell had but all her features are like a chihuahua... i think she definitely looks like a chihuahua :)

•
18 Jun 08
oops im sorry... ive just realised i was looking at the wrong picture.. you'l have to excuse me i'm new to this!! lol now from looking at the correct picture i stil think she is lovely! but i think she looks more like a jack russel... she reminds me of my old jack russel :)

• United States
18 Jun 08
Thanks

She is just a sweetheart and I do see much Jackie in her . I love both of the dog breeds and now i have the best of both worlds.


• United States
25 May 08
Aww thanks !! I didnt know jackies could b vocial like that ;) Her ears will sometimes tand like a chi tho and she does have the pimples hehe.

• United States
21 Jun 08
For me your dog looks like Jack Russell. Cute picture of your dog and you. HUGS

• United States
18 Jun 08
She looks mostly like a jack russel to me. Maybe a tiny bit chihuahua. She's a cutie!

• United States
6 Jun 08
Definitely Jack Russell. I think her face is too full to be a chichi. She almost looks like a cross between them.

• United States
6 Jun 08
yes she looks like both to me sometimes. everyone always thinks she is a jackie.

• United States
27 May 08
hi yes in the pic of the younger dog looks like a chiwawa but the one you are holding looks like the jack!! just know they will try to get out of yard cause they hunt too. but matters not what she is you love her and she loves you!!!!

• United States
27 May 08
When she was a puppy she would just fly out of the house like a speed demon . It was kinda cute but i was always worried she would get hurt .

• United States
25 May 08
I have 3 chihuahuas. My neighbor has a Jack Russell. Your RayRay has the same facial features as two of my chihuahuas, but she looks a lot more like my neighbor's Jack Russell. She also looks a little bigger than either of my chihuahuas.