Apartment Potato Plant Progress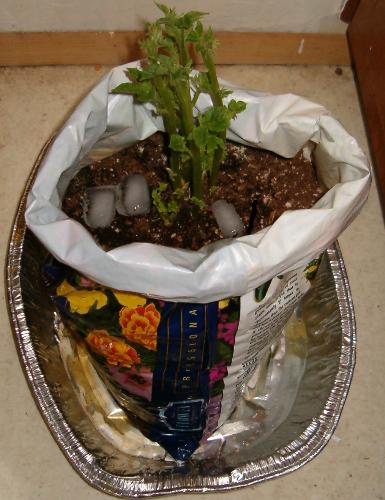 United States
May 26, 2008 6:43am CST
I wanted to share with you the progress of my apartment potato plant. It is doing surprisingly well despite it's oddball location plus the fact that it's tender is completely self/web taught... * The spuds is growing in a plastic bag with holes cut in it for drainage and an old tin roasting pan to keep the water from reaching the floor thus ticking off the landlord.
2 responses


• United States
27 May 08
http://www.wormbins.com Make your rubbish work for you...with a few wriggly friends.

• United States
27 May 08
Teeehehheheee, maybe, maybe not. * Best results is bury your spud about an inch under dirt though. Takes a bit for it to pop up.


• United States
27 May 08
What an awesome way to grow potatoes! I had never thought of that before. I was going to use the tire method, but I like your "apartment potato" idea. With proper lighting, you could grow them year-round! This is a great post. Thank you for sharing! I've GOT to try this!

• United States
27 May 08
With food prices the way they are, any cut helps!

• United States
27 May 08
I hear ya! I'm growing everything I can wherever I can; mostly to bring the food bill down, but also because home-grown tastes so much better. Even if it really tastes exactly like store-bought, growing it yourself is what makes it taste so much better! I have a problem with underground pests eating my root plants. I have moles, voles, chipmunks, squirrels and rabbits. Your method of growing potatoes is awesome! Good luck and keep posting!

• United States
28 May 08
In the house, roots are as safe as you are.