Homosexuals are not gay because of who they screw!!

United States
May 27, 2008 10:26pm CST
They are gay because of what they feel. I am soooooo sick of hearing people say that gay people are not gay unless they are f*cking people of their same gender. This is soooo friggin stupid. My son is a virgin. Still gay. My great uncle probably hasn't f*cked a man in over a decade. He's still gay. Why are people so backwards? It is soooo frustruating. I know the usual suspects will not have the balls to reply. They don't havve an answer because the Bible and Paul wont' tell them they are right. OK, I;m feeling snarky tonight. Any thoughts???
6 responses

• Canada
28 May 08
I wonder if these people who think that way consider their own children to be sexually ambiguous because they haven't had the opportunity to "choose" and still have their virginity?

• United States
28 May 08
You have to remember a lot of people that are against the 'gay lifestyle' think all gays go out and mess around with a bunch of different people. So gays are pretty much screwed either way you look at it. If you don't sleep with anyone then you're not gay, if you go out and sleep with a bunch of different people that are guys then you're a raging homosexual. I don't get people and them hiding behind their bibles.

• United States
28 May 08
They are lied to and the spread the lies. They spout leviticus and Romans, but they don't get in the 10 commandments where it says, "thou shalt not bear false witness." By lying about the gay "community" they are bearing false witness. Ignorant fools. They only know that of the bible which supports their ignorance.

• United States
31 May 08
Snarky?? I had to look the word up because I have never heard it before, that I can remember. I like it! I do think I will start using it, if you don't mind. I really don't know what to tell you, cyn. I do know people believe what they want to believe and it's very tough to make them see they are believing some of the most absurd things. Their words can be very hurtful and their actions abhorrible. I will just continue to live my life happy...a.k.a. GAY. PEACE

• United States
31 May 08
I am sorry that your great uncle hasn't had any luck lately and I Know your son will find his soulmate and then he will relate in a non verbal manner with him. I can't understand why people would think that being gay is the act only.Just think of if that were true of hetrosexuals.What would that mean for nuns and priests? They have never had s*x, so would they be considered gay? straight? What makes you gay, bi, or straight is your desire. Which gender do you want to be with. Not the act.

• United States
28 May 08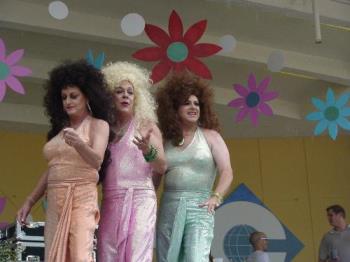 I am happy that you said that. It is for the most part that way people are raised. I think it is really funny that people say that if you have gay couple raising a child then the child will come out to be gay. Hum! Let me think, oh wait I had a mom and a dad but I still come out gay. I have a lover of 8 years and I could never be more happy. I did not wake up one day and say, I thank I am going to be gay. I did not select to go thru people calling me a "f_g" or talling me that I would rape a child because I am gay. I did not ask to be told that I am going to hell. If everyone knew how many "straight" guys ask to fool around just because they want to get off.