all dog lovers--read this-- barf diet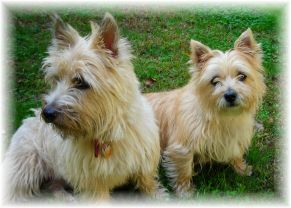 United States
May 28, 2008 2:59pm CST
To all dog lovers..... My name is Gina, I am 18 years old and i am a dog fanatic with great news on how to have a healthy, well manored pooch. (before you stop reading because im "too young" to know) read on. i swear, i know what im saying. Okay, In my lifetime, i have had 3 dogs, Jocko who we had to put down about 5 years ago(jocko is actually a key component in my disscusion) and now i have Nala and Sophie. all three of which are pure bred Cairn Terriers.(toto dogs) Jocko was our first dog, once we got him we dicided he needed a puppy friend so he wasnt so bored when we were at school and work all day, so we got nala. as time went by, Jocko became obedient, he was barking all the time, growling and people, and occasionally nipping. at this tme we had our dogs on a regular dry food diet. After too long of this happening, Jocko became unberable to take care of and nobody wanted to take him, we had to put him down. This was by far one of the most upsetting days i was going to face. i love dogs and i would never put down a dog unless i had to. After we put jocko down, Nala began having the same "additude problems" as jocko, except she wouldnt eat for a couple days at a time because she was lonely. I was not about to lose another puppy esspecially since nala was only about a year old. After a couple weeks of nalas additude adjustments-- i went online and i looked up anything and everything to keep my baby girl. I came across one diet that has worked great, and i would never go back. I would never give information to people about animals that i didnt think would help. its called a "BARF DIET" its all raw food, many different meats, vegetables, bones. This option is the best option becasue after we put nala on this diet- she went back to her loving self and shes so much more healthy and happy now! Theres many different companys that make the "BARF DIET" for dogs, im partial to "OMA's PRIDE" myself. Not only is nala now happy, but she has strong bones, shes very healthy, her teeth are stronger and healthier than ever, and shes her mushy puppy self even now that shes about 7 years old. We now have two dogs, Nala and Sophie, and both of them are happy and extremely healthy thanks to the BARF diet. The best part about the BARF diet?? The puppies love it. I dont think they could easily go back to their old food. they love the taste and they love eating it, there's not one doubt in my mind that my dogs will be around a long time. Trust me, if you knew me, you would know. im in love with all kinds of animals and i would never steer any animal wrong. i highly reccomend trying out the diet, or just going online and reading up on it. its worth your while! and your puppy's too! ~gina~
7 responses

• Canada
29 May 08
I know a lot of breeders who feed raw, and are very successful. I feed high quality dry food, and my dogs are also very healthy. Just because the BARF diet mimics the diet of wild wolves, it doesn't mean it is appropriate for our pets. Wolves eat what is available to them. How do you know a wolf wouldn't take a cooked steak over a raw one or a bowl of quality kibble over a rabbit? So, who knows what's the best. You ask 10 different owners or breeders what they feed you'll get 10 answers. I'm glad you're successful with the BARF diet.

• India
29 May 08
Thanks for this information.I would go online and get the details and I would love to try it out.I have a year old labrador.He is very fussy about his food.i take pains to give him a tasty nutritious meal.i cook the rice with veges and beef one day another day its rice veges with chicken or fish.I find it hardly eats the rice it just eats up the non veg alone.I give him milk in the mornings and in the evenings he has a bowl of pedigree.

• Israel
29 May 08
my dog really loves vegetables. I give him some whenever I eat them myself, but usually he gets regular dog food (salmon based because he has sensitive skin). thank god, there's nothing wrong with his health now, and I hope there never will be, but if something happens I'll remember your recommendation.

• United States
28 May 08
This sounds like what my step-daughter has her two dogs on...a Rottie and a Doberman. They had health issues and this diet was recommended for that but she said that the dogs (both females) stopped fighting after a few weeks. She attributed it to their being in better health.

• United States
28 May 08
That's interesting. We feed our animals dog food mixed in with baked chicken, rice, and vegetables. We got lucky with dogs that will eat mostly healthy stuff. Our past dogs wouldn't ouch any fruits or veggies. They seem to be more well rounded, personality and alertness wise, because of their diets. We used to have dogs that were battling their weight constantly until we came up with a doggie plan to rid the fat. And since ours are still puppies, we have introduced them to fresh vegetables at an early age.

•
28 May 08
It's true, a raw diet is best for dogs. A friend of mine is a veterinary nurse and her dogs are all fed on the BARF diet. They're happy, healthy, and they've been to Crufts! As well formulated as manufactured dog foods are, you simply cannot beat feeding dogs a diet as close as possible to the one they would have if they were still living wild.

•
28 May 08
I highly recommend it too. MY dog has been on barf/homecooked for nearly two years. SHe has suffered from a string of skin problems and food allergies. It has only been since feeding her the way nature intended that her problems have pretty much stopped. Its not to everyones taste please excuse the pun, and yes it does require a bit of work in preparing food but i ust bulk buy and sort and chuck in the freezer so it not that hard. Would never feed kibble now.

• Garden Grove, California
31 May 08
hi gina your dogs look healthy and happy so the barf diet must really be working. I will recommend it to all my dog owning friends. I cannot have a dog anymore as I live in an apartment complex so really miss having a pet.

• United States
31 May 08
ahhh, apartments... im in the middle of looking for an apartment for myself, but i made a promise that im not getting one unless my dog can come with me. i dont think i could live without a puppy. But, back on subject YES! my dogs are very healthy, as we speak sophie is running around the house chasing a fly like a mad woman! Everyone keeps telling me that cairn terriers dont live very long... i dont think my puppies are going anywhere any time soon. :0)