Second time around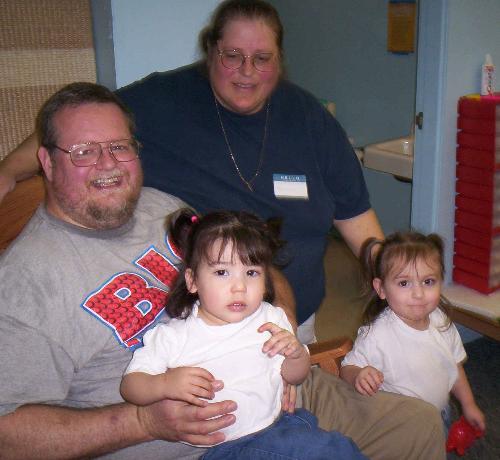 United States
May 30, 2008 5:42am CST
I never thought I would have to be a mom again after raising two children alone especially through the teenage years. But my daughter put me in this possition again right after I got married to my present husband. She was 22 years old at the time but only acts 16. She gave me two beautiful little girls when they were 1 and 2 years. It was only supposed to be a temporary thing but it is going on 4 years now. I love the girls and I wouldn't change a minute of it but there has been times when I get frusterated with my daughter when she starts acting full of herself. She now has 2 boys that she is raising on her own. All four of the children have different fathers and not one of them are really in their lives. I know how hard it is to raise kids on your own as do a lot of other people. There comes a time that you have to take responsibility seriously and do whats right. She hasn't done as bad as when she had the girls but there has been moments when I thought for sure that we would have to raise the boys too. As of right now she is doing as okay job. I would really love to see her do something more with her life other than waste it on a no where job. Well as for my little family, we are all doing great and keeping very busy. The girls are happy and content staying with us and they are also ver stable. I hope to do as well as possible to do whats right for them always........
1 response

• United States
30 May 08
I'm sorry to hear that she has turned out the way that she has. I don't think doing it alone really changes anything. My ex-husband takes my children every other week for the entire week and he might as well not take them. I worry that my boys will turn out wrong because him being him their life. It's hard to listen to them cry because of what he has done. He continues a shared parenting plan that it doesn't seem like he wants to. I hope that your little girls have a happy healthy life and wish you the best of luck with them. Just remember that sometimes we can do everything right and something still can go wrong.

• United States
30 May 08
I know I have tried to raise her right. She did graduate high school and she was supposed to go to college but then she went to stay with her father and thats when she changed. I was so heart broken because I thought she would really do something with her life. But I guess there was a different plan for her. The girls are very happy and I think they will stay that way (I hope) forever. We love them very much. Its a funny thing about little kids, they can bounce back so quickly. Your ex needs to see that them boys are going to grow up and resent him. They aren't babies for long enough.

• United States
30 May 08
You are so correct. I just posted some of the details under parenting interest. I am so glad that your little ones are happy. They are so lucky to have you and give them a stable life that they so need! I know my children will not like their father when they grow up and I have a rocky relationship with my biological father so I have tried to tell my ex about it because he knew what I went through with my real dad, but he's blind. Luckily my children have a wonderful step dad and they now know what it's like to have a man in their life that makes them number one.

• United States
31 May 08
They are wonderful kids. My husband and I love them deeply. I just wish that my daughter and son's father was half the man that this one is. He ended up in prison and I think that made some impression on my daughter on how she is. Plus she likes to live in the past and dwell on it. I keep telling her she is an adult and can make her own choices. And what she does with her life now is up to her.