world travel

India
3 responses

• United States
30 May 08
I don't want to travel around the world, but I do have a travel dream. My dream is to own an RV and travel the United States. Marsha

•
2 Jun 08
Just the US? Don't you have any dreams beyond your country?

• United States
4 Jun 08
Actually I don't....I'm not an adventurous person, and honestly the thought of flying over oceans really scares me. Marsha


• Philippines
4 Jun 08
First things first before traveling the whole world. I gotta to be nationalistic, and try traveling the whole of my country. It is a paradise land, but I have been to few places only... So gotta tour first my own country then later the whole world.

• India
4 Jun 08
well welcome the country traveller. here i think no body has antagonised the country travelling and not that i have completed every nook and corner of my country but it is about my wish .sooner or later and before or after are no considerations. well when the first comes or the second one every thing is important and our country is also a part of this world!!!!

• Indonesia
11 Jun 08
my country is too, a paradise. But unlike you, i planned to travel the world first, and my country last. This is the result of a discussion i had with a friend. She said that when we're young, it's better to travel aboard, be a bagpackers because our body can still cooperate well for that. Still saving every cent i earn for that. Though i 'steal' some now and then to travel my country ;)

•
2 Jun 08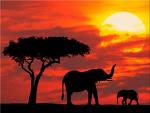 I'd just LOVE to travel the whole world. there's so much out there i don;t know about, and haven't seen yet. Then there's all that I've seen already and miss like mad! I can't stay here on this tiny island (england) and just ignore everything i could be experiencing out there.

• India
4 Jun 08
oh yeah i appreciate. the life itself is about knowing the unknown, exploring the unexplored and well doing it by oneself has no parallel. you may not enjoy a story being told to you about exploration because you want to have a feel of it by doing it yourself!!