Are all human equal?

France
6 responses

• United States
31 May 08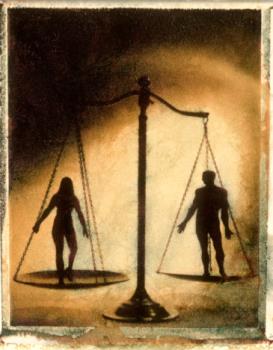 We are not equal. We supposed to have the same right and value, but we don't. Equal has different meaning in many fields. We are created equal, but reality is far from ideology. We don't have the same rights. In many countries woman is second class citizen, poor has no respect and some nations feel like they are superior to others. All animals are equal but some animals are more equal than others. George Orwell, "Animal Farm"

• France
1 Jun 08
To me its not reasonable to say all humans are eaqual coz then will start some abuses


•
31 May 08
I think we all have a right to be treated as equal but not everyone has equal rights. In some parts of the world women are still considered to have lower status than men. Some people consider themselves superior to those born into a lower class or caste, or because they have a different religion. Many people around the world are persecuted for their beliefs, their sexuality or their cultural origins. It is a sad world we live in when these attitudes persist. Not everyone has an equal chance in life. If you are born poor and your parents are uneducated you have less chance of achieving what a rich person with a good education can more easily have. I don't think there will ever be a solution to the inequalities of life, I think all we can do is teach love and respect, because we are all brothers and sisters in this world.

• China
31 May 08
I don't think all races are equal. Most people think all humans are equal. But the fact is that, when they are saying so, indeed, they may be just abusing some races at the same time. All things of the world are not equal, including humanbeings. Equality is just a dream of most people. Maybe someday it will come true. But today, humans still have to work for this goal.

• Canada
31 May 08
Yes, of course all humans are equal.....any kind of prejudice should be wiped off the planet.....there is no excuse for it....we are all the same beings and we all end up in the same place and come from the same place....

• Australia
31 May 08
All humans are equal, it is just the small differences in many ways that make some races seem superior to others but when you boil it all down we all came from the same place and we are all going to end up in the same place...