How many of you involve in charity works?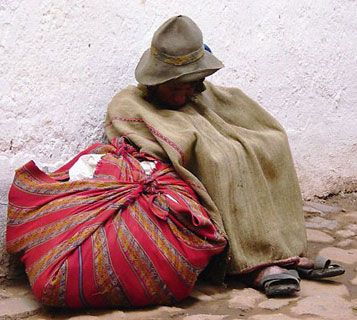 India
May 31, 2008 8:20am CST
When we help others by doing whatever we can will find real meaning of life and teher are many people living under poverty line and they need otehrs to provide them help and they will also get to know what the real life is and find happiness when so many helping hands come together isnt it?
3 responses

• Philippines
7 Jun 08
I do not know the meaning of life but I do know there are street children who sleep on the pavement, underneath the bushes and hedges and I know for a fact that they survive by begging for scraps. Why are they there? Why are they like that? I didn't know and I didn't care for the answer which could be abusive parents, extreme poverty; I just don't know. But, I did have a personal plan where I would banish hunger for one time in a week and this involves cooking up a delicious meal once every week and giving to those who were hungry. I required nothing, just their presence and their bellies. I gave no lectures, no songs, no spiritual thoughts or prayers, no deep philosophies, nothing but food. On Christmas day I prepared a special meal complete with coca-cola. I don't think I made a dent on their armor of neediness. I have no illusions. What I saw during those times were happy faces. Ah, I said to myself, "I will call this project: Manufacturing Happiness".

• India
7 Jun 08
Yes, this is really bad isnt it? one should feel for them and there are many people who are too rich and can afford doing so many charity works and are not willing to..! what you are doing is simply amazinga nd how nice it will be if most of them copy your work and pay attention to these things isnt it?

• United States
31 May 08
I volunteered to ring bells for the Salvation Army. They actually pay you...but that's mostly to cover gas and food bills, since many people who volunteer aren't much better off themselves. It was actually the only reason we'd had a christmas this year. I bought the family our christmas dinner, and I had some money left over for some presents for my family as well...'cause otherwise christmas would not have happened at all for us. I won a "certificate of appreciation" 'cause I was one of the ones who raised...what, nearly a thousand dollars for the poor. I've done other work for the salvation army as well, if more charities were in my area -- I'd probably have volunteered for them too. I just don't like toit by and do nothing, I know what being desperate means so I have to do -something-. Meanwhile I try to write to help people these days who're now having a hard time because of the economy. Mostly articles on frugal living and survival tips for this day and age.

• India
1 Jun 08
Hats off to you my dear and we can just hope that many others will also get involved in charity works like you as poor peple also hman beings like us and some of them ofcourse will be lazy to work and maybe we also can help them out in giving them direction and donate how muchever we can to others....

• United States
31 May 08
Last year was the first year The Walk For Autism cam to my area. I gathered my family together and we earned about $400 for the cause and the walk was nice. I am doing it again this year but it seems to be that no one has money to donate anymore so not sure its gonna go so well this year but i will try.

• India
1 Jun 08
NIce thing you are doing here and i always feel that peopel who have more money should also get involved in charity works as it will definitely do good for themselves and also the poor poepel around wil get soem helpa nd they also will get to live a happy life