Do you bath your cats?

Malaysia
11 responses

• United States
31 May 08
lieanat_ My Persain loved to lay in the dirt outside, so I had to bathe him. When he was wet, Indiana Jones looked like a drowned rat. I realized he only looked big because of all his fur!

• Malaysia
31 May 08
Haha, first time I heard that cat likes to lay in the dirt! Sure you tiring to bathe it, right? I bet it sure looks funny when it's wet. do you have your cat's photo, do show us here. Sure many myLotters will love it. Thanks for your comment.

• United States
31 May 08
My girl has very sensitive skin and tends to get nasty rashes after she rolls around outside in the grass, so she gets a bath every time she manages to escape. I hate to do it, because cats really don't need baths, but it's that or the vet. Sometimes both, sadly.

• United States
31 May 08
Hi there! Being the owner of two cats...one short hair and one long hair, I must say that it depends on the length of the hair. Our short hair requires no bathing and is very clean. However, our long hair cat must be shaved or bathed. During the winter we bath her with the cat bath wipes. During the summer, however, we have her shaved by a cat groomer. Her hair is so long that when she uses the bathroom it gets caught. This also cuts down on hairballs!! Hope this helps!

• Canada
31 May 08
My cats clean themselves, and they are much cleaner than most dogs I've met.

• United States
31 May 08
I don't bathe my cats. Cats are very clean animals and they bath themselves all the time. My cats bathe each other half the time. They have fallen in the bathtub a few times while standing on the edge watching someone take a bath.

• United States
31 May 08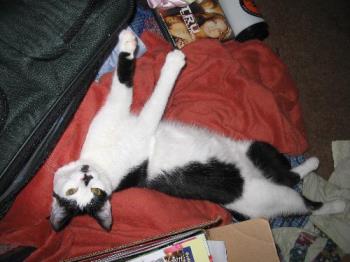 It is actually bad to bathe your cat. It is bad for their skin. It is suggested that you only bathe your cat when they have something that is toxic to them on their skin or if they are really dirty. That said my husband loves to give our younger cat, Carlye a bath every once in a while. I have no idea why. Plus we also have cat wipes that are lavender scented that we wiped them down with ever so often. It helps trank them out.


• United States
31 May 08
I don't although I have ocassionally used like a dry bath product on him. I gave a cat a flea bath once and he ran away and hid in the closet. he slipped off the shelf and cut his tongue. i ended up having to take him to the vet. true story! so no more cat bathing for me

•
3 Jun 08
Our old man Percy has quit long hair and for the last couple of years in Spring, we have had to help him, with the aid of scissors and comb, to get rid of lugs when he starts to shed his winter coat. I don't think he can groom himself as well now he's getting on a bit. Something like me really! Well, this year we had to cut out the lugs and use a metal comb but he needed a bath too and that was no easy feat.

• Kuwait
2 Jun 08
Yes, I do bring my Cat to a bath so that it would be very nice for me to played with her and so comfy with the hair foe her in a nice Smell also....and i used to give her a bath every other day....

• Canada
2 Jun 08
I've neer given him a "bath" in the traditional sense, but one day when he followed me to my apartment building's laundry room, I filled the wash tub with cool (not cold) clean water, and put him in there to see how he liked the water. He learned NEVER to follow me to the laundry room again. haha