System load failure due to disk clean-up?????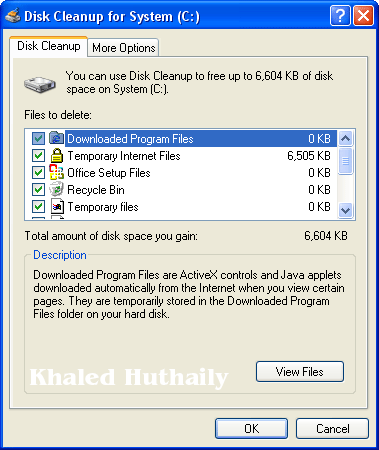 Atlantic City, New Jersey
May 31, 2008 12:34pm CST
Today I was trying to do a disc clean-up on one of my Toshiba laptops and in the middle of it the computer turns off and now I can't get it to boot windows?!?!? I'm lost as to why this happened- anyone have any suggestions? I can't find the Recovery Disc to that Toshiba so I am trying the recovery disc to my newer Toshiba; bought 1 year after the one that went down. Does anyone know if this will work? Right now it says it's recovering- but I'm scared of the end result! Now I lost all documents on that laptop and would love to avoid this mishap in the future- so any advice is appreciated and welcome!
4 responses

• United States
31 May 08
It could have just been your hard-drive failing. I'm not much good with laptops, as I'm more of a desktop PC kind of guy. I just thought i would put my two-cents in. ~Noodlebrain0

• Atlantic City, New Jersey
31 May 08
hard drive, software- it's all foreign language to me...lol. But I appreciate your two cents. I hope the recovery disc works. But if the hard drive is failing, will it make a difference?

• United States
31 May 08
No, if the hard drive fails.....Thats it. You have to buy a new hard drive, which will be especially difficult because you are using a lap-top :\ I wish you the best of luck. ~Noodlebrain0

• Atlantic City, New Jersey
31 May 08
Thank you for that bit of info- and for being nice to a computer novice- as myself....lol


• United States
31 May 08
There is a website you can go to called, "Geeks to Go", if you can get on line. If not, I have used Geeks on Call and 1-800-GEEKS. I don't know a lot about computers, or at least enough to help you, but these have worked for me.

• Atlantic City, New Jersey
31 May 08

Thanks for that info- I'm going to see if the recovery disc works first before I go spending money on fixing it though ;( It said it recovered- but now there is a blue screen on the laptops that states "Applying Final Configuration Please wait... This may take serveral minutes. System will reboot upon completion DO NOT INTERRUPT!" That has been on the screen for at least the last 6 minutes- so I'm trying to wait patiently....


• United States
31 May 08
Looks like it's time that you headed over to Toshiba Support: http://toshiba.com/tai/support/support_cons.jsp and please take a look at some free document protection and storage, so as to prevent the loss of your information: It's it's called IDrive and it's on my blog at Apsense: http://www.apsense.com/article/118463.html I wish you the very best, and hope that the rest of your day is brighter! :)

• Atlantic City, New Jersey
31 May 08

I've never been good at understanding and utilizing the back up of my system. I really need to learn that so I can have something to go back to if this does happen again.


• United States
31 May 08
I have saved many people a lot of worry by reminding them utilise ALL the backup systems that their machines offer...With all the bad stuff that can happen to your machine, it's really good move! :) Here's a joke to lighten your day:) An office technician got a call from a user. The user told the tech that her computer was not working. She described the problem and the tech concluded that the computer needed to be brought in and serviced. He told her to "Unplug the power cord and bring it up here and I will fix it." About fifteen minutes later she shows up at his door with the power cord in her hand.

• Atlantic City, New Jersey
31 May 08
hahaha, that was too cute- thank goodness that I'm not THAT much of a novice when it comes to these darn computers...lol

• Philippines
1 Jun 08
Never use a recover disk of one computer to the other. Recovery disk record a system image of the current computer - hard disk configuration and system file location. Definitely this will vary with every unit even with the same operating system. It would be just safe to use its installation disc or WinXP setup disc and do a reinstall. Do not format, sort of install over the defective one. This will retain your previous data and configuration. This is if your hard disk has no hardware problem or physical defects. Good luck to you Warmweatherwoman.

• Atlantic City, New Jersey
1 Jun 08
thanks soo much for that info ferdz. Unfortunelty - I had no luck finding the original disc- which is why I opted to use the disc to my other toshiba satellite- It does seem to be working fine now- can I expect a problem in the future because of what I did? What if the Toshiba that the disc belongs to goes down- will I still be able to use it for that one?

• Philippines
3 Jun 08
I was referring to Recovery disk(ASR floppy) not the Recovery Disc(CD), this are two different things, I have misunderstood you. You use the CD then its alright. You won't be having problem because of what you did. Since the CD cannot be written to then nothing is save. You could still use that CD in any laptop that has a similar problem.