Yellow iris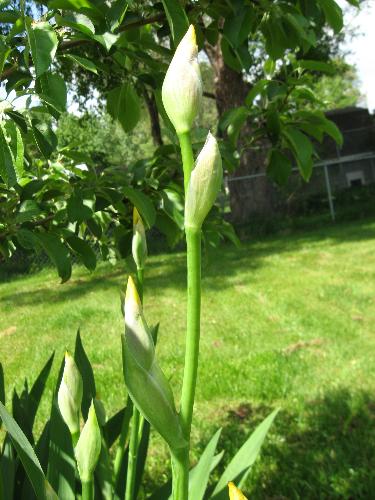 United States
May 31, 2008 2:52pm CST
around one of my apple trees I have a ton of iris planted. they are finally budding and should open in a weeks time. I am thinking this is an iris. If it isn't can someone please correct me. I got these from a neighbor years ago and don't recall but am almost positive they're iriseds. I have some along side the house by the office window as well as some in my raised flower bed along the garage. HAPPY POSTINGS FROM GRANDPA BOB !!~
7 responses


• United States
31 May 08
You know me, I'll be posting photos. HAPPY POSTINGS FROM GRANDPA BOB !!~

• Canada
31 May 08
Looks like an iris (not that I'm a professional, I don't know what half the flowers in my garden are)! I saw the most gorgeous irises at a house on the next block today, the lower petals are a lovely burgundy-merlot colour and the upper petals creamy white striped with the same deep reddish burgundy. They were so different than the usual lilacs and purples, I've never seen this particular colour in irises before!

• United States
31 May 08
I want more than just yellow ones myself. I've seen some Beared Iris in a purple and blask that are beautiful. I've seen those Irises they are costly but beautiful. HAPPY POSTINGS FROM GRANDPA BOB !!~


• Marion, Kansas
31 May 08
They look like irises to me. I have only had one or two bloom. My perennials like irises and peonies are in too shady a spot I think. On the other hand, I do have lots of fruit on my trees this year.

• United States
31 May 08
My HoneyCrisp apple tree hasn't gotten any blossoms yet. I don't know if it bloomed later that the Haralred or not last yera. That one blossomed now hopefully it will have apples this year. HAPPY POSTINGS FROM GRANDPA BOB !!~

• United States
31 May 08
Definitely looks like an iris to me. I have a lot of these in my yard, and have even transplanted so many it's crazy. I have 2 different shades of purple. They just keep spreading, and I have learned that if I plant them along the fencerows, it will help keep the weeds down....which means less work weeding for me! I hope you have as good of luck with yours, as I do with mine.

• United States
31 May 08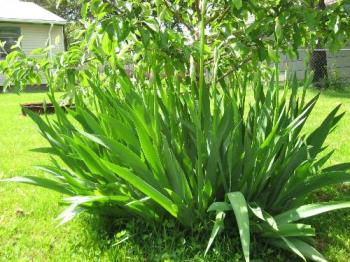 Mine are all yellow ones. Here's a better shot of how many are around the apple tree. We have ferns along the fence to keep down weeds. HAPPY POSTINGS FROM GRANDPA BOB!!~

• Indonesia
7 Jun 08
I found a link that said it iris, grandpa bob. This is the link : http://aggie-horticulture.tamu.edu/extension/newsletters/hortupdate/apr05/WhCemIris.html. Will you take the picture when it's blon? Oh i can't wait to see!

• United States
1 Jun 08
They definately are irises. We have a bunch of them planted in our garden beds. They have doubled in size since we planted them and have produced glorious flowers. Many of them are purple which is my favorite color.