Dr Who Exhibition absolutely appalling and a real let down for the kids.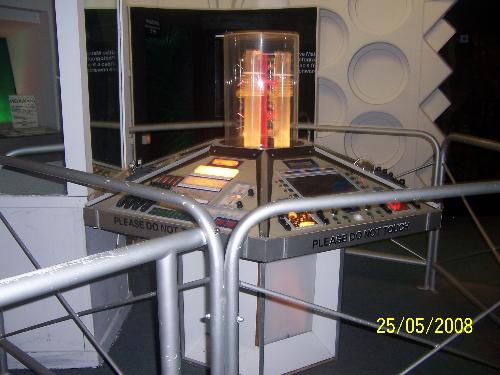 May 31, 2008 6:35pm CST
During my weeks holiday with my family, which consists of me, a hubby and four children (3 boys and a girl) we spotted a Dr Who exhibition along the main sea front, we picked up a leaflet for it and as my boys love this they begged us to take them. Being on our hols of course we said yes, the leaflet made it look fantastic, and it had a map and little bits about the exhibition and it looked quite exciting, we thought it would be a good couple of hours of fun. Of course it did not have the prices on but we were on holiday so it did not matter too much. We went, for all of us to get in we paid £27.00 ($55 approx) and we went in, 15 minutes later we were done and back out again!! I kid you not, it was the worst exhibition I have ever seen in my life, it looked like it had just been thrown together, all it consisted of was costumes, nothing to interact with and just nothing. My kids were really disappointed, heck I was really disappointed for them. So if anyone ever goes to Blackpool for a trip, I advise you NOT to bother with the Dr Who exhibition that is there, it is a total rip off. The photo I have put on is supposed to be the control panel of the tardis, this is all it was, not even a replica of the tardis and nothing that the kids could push or press to have fun with. Has anyone else ever looked forward to a day out somewhere only to be really disappointed with it? What is the worst let down of a day out that you have ever had?
6 responses

•
1 Jun 08
Our whole family are Dr Who fans and the kids would have nagged me into going as well but I think I would have been very disappointed and insisted on telling the manager so in no uncertain terms! Whilst that model of the control panel is quite good if a teenager made it in their bedroom for an exhibition that charges so much money it is rather tacky and nothing near the control panel as we see it on Dr who! I am sorry you guys were conned and I can see why the kids were so very disappointed! If I ever go to Blackpool my kids will be warned in advance that we won't be going there - what a rip off! xxx

•
1 Jun 08
In most places there are things for the kids to interact with and have a bit of fun, not there!


•
1 Jun 08
Yeah it was a real let down, there was just nothing to it at all.

• Canada
8 Jun 08
does sound like a royal rip off doesn't it, I was disappointed with the ripley's believe it or not museum in Niagara Falls, Ontario when I went years back, it was really tacky.

•
10 Jun 08
Hubby wanted to go to the one in Blackpool but after that I was a bit reluctant to waste anymore money.

• United States
1 Jul 08
That's so terrible! Especially for the kids. And the price you paid, was really a lot, considering the exhibit was bad. I love the entire Doctor Who genre in his various incarnations and I have always thought about going to one of the exhibits if I'm ever on holiday. But I will have to be more careful and check for one of the official ones, sponsored by the show or show creators. I guess there are a lot of rip-offs, I had not thought about that! Thanks for the warning.

•
30 Jun 08
That's a shame. I remember when I was a kid in the 70s, the original Doctor Who exhibition was my favourite part of going to Blackpool. It was pretty good, with the entrance made up to look like the outside of the Tardis, Daleks and the robot from Tom Baker's first story. Those were the bits I remember, I'm sure there was more. I went to the one in Longleat once, that wasn't as good. There was also one in Wales for a while, which was alright, but that's closed now.

• United States
3 Jun 08
I think that some of those things are set up just to get money from the public. It seems that they don't get it that you will make more money if your provide a very good product at a reasonable price, then people will come back and also tell their friends what a wonderful time they had. They will tell their friends if they have a bad experience but people who own those things don't seem to realize that.