A lady with Two Big Breasts and One Little Brain? What do you think of Stone?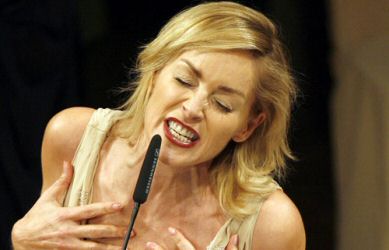 Uganda
June 1, 2008 10:39am CST
Sharon Stone, a well reknown celebrity made a comment on the media recently that the Earthquake which killed so many Chinese was a retribution from God for the Chinese treatment of Tibetans. I personally dont enjoy the way China and Tibe leaders are not peacefully solving their political problems, but to say that this painful tragedy was God's punishment was very very stupid judgement from Stone! I expected her to give a celebrity touch to this problem, not to politicize it. This morning some Chinese Bloger called her "A lady with Two Big Breasts and One little brain and I want to agree with the Blogger! Me I think She has a Stone Cold Heart, What do you think?
3 responses

• United States
1 Jun 08
I have seen it at you tube and also people's responses towards her very straight and non sense comment! I think she has to start thinking first before saying anything or else the word she used like "karma" will just counce back to her. She didn't feel how hard it was for the people to lose their loved ones and properties for the calamity!


• United States
2 Jun 08
I think it is sad that she feels there is a God who would act in this way. My God is not vantictive like that. I choose to beleive God is all loving and all forgiving. I think I shall stick with my thought on God. Because the world would be such a dark place don't you think, if God was cruel to that degree. Nature has it's own ways, and that was just that. A horrible natural disaster. Not Gods revenge, geeze... Nonsense!