made a new little friend.. and hes just THE coolest thing ever!!!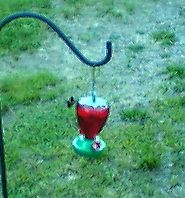 United States
June 1, 2008 8:21pm CST
its been a gorgeous day out today.. and i spent most of it out in my yard puttering in my gardens. moving flowers from one bed to another.. manicuring around the edges of the beds.. weeding in and around here n there.. just enjoying a very relaxing day out in the sunshine. mal worked on our machines.. and managed to get two of em working after theyd been sitting for a couple years.. so he was bombing around cutting limbs off of unkempt trees with his new now working chain saw, cutting paths in the grass with the used to be silent lawnmower.. we tossed some steak and swordfish onto the grill.. made some pasta salad and ate outside underneath one of my favorite maple trees. then time came to start cleaning up and head inside.. and mr tiny hummingbird decided he wanted to play. first he buzzed mal about 2 inches from his nose.. and sat there hovering in front of his face. then buzzed the kitchen window while i was tending to dishes inside.. so i grabbed my cell phone and headed back out to play.. and snap pics. he perched for a bit on the top of the fence across the yard.. and kept darting back and forth from there to the feeders.. to the flowers.. through my hair.. back over at mal. i couldnt stop giggling enough to hold the camera steady LOL mal after a bit started getting molested by mosquitoes so he headed inside.. and i positioned myself on the steps a couple feet from the smallest feeder.. with camera readied.. to finally get a steady picture of the ruby birdie.. after a bit of sitting there and nothing, i figgered he had gone on his way and was done playing.. and was juuust about to turn the camera off and head in when i heard it. this loud buzzzzzzzzz right behind my shoulder.. i turned slow and there was the little bugger spinning around the feeder just behind my head.. and he stopped, hovered right next to my shoulder.. and then spun over to the other feeder as soon as i remembered to face the camera into his direction. i laughed outloud and told him "c`mon little man.. just sit still for ONE pic for me!!" and lo & behold.. he did!!! now the feeder in this pic is at best 4 inches tall.. you can see mr ruby on the lefthand side where hed stopped to pose for me.. so you can get a gist of just how teensy tiny he was (the clarity and resolution isnt that wonderful, remember this is a cell phone camera LOL) this was prolly the most fun interaction with a wild critter ive had in a very long time, im still giggling like a little girl. LOL have you ever played with a wild thing that had you in fits of giggles like a child? please share

5 responses

• United States
27 Jun 08
Your story of the hummingbird was so cute! I've never interacted with the little sweeties, but we do have some around here. I put out a hummingbird feeder as soon as I saw my first one. That little guy (or his entire family, one by one) visits the feeder every day. My story is about a squirrel, though. When I was about 12, my family went to Connecticut to visit my great-Aunt for a week. She had a squirrel she used to feed every day. This little guy would crawl around on her screen door until she gave him his "breakfast", crumbs scraped off of a piece of toast. I got to feed him, so I was thrilled. Once we came back home, I started leaving peanuts out for the squirrels. They got used to me putting them out there because soon enough they were waiting for them each day. One day, I was about to put the peanuts out (I had them in my hand) when a neighbor and I started talking. I was standing there, arms crossed in front of me, peanuts in hand, when all of a sudden the boldest of the squirrels ran up on the porch, up my leg to my hand, grabbed a peanut and ran back to his tree. It freaked me out! I was so surprised that I didn't have time to think about how cute it was. But after that, I tried coaxing them to take the peanuts from my hand. After about a week, they did. They started eating them right there on the porch with me, too... begging for more, of course. I named them all (there were about 4 if I recall correctly), and we'd have little chats while they ate their peanuts. Okay, I was doing all the chatting, but they seemed to react. That was such fun! Another time, I spent about 30 minutes talking with a dove. He was sitting above me in a tree while I was gardening. He'd do his little cooing thing, and I learned to mimic it. I'd coo, he'd coo, then I'd coo again and so would he. This went on about 30 minutes until I had to go inside. It was so cool! I'm a tree hugger, too. I'm not entirely sure what you mean by "bunny humper", though. LOL But the wildlife respond to me like your little hummingbird did to you. It's so cool, isn't it?

• Australia
9 Jun 08
Gosh that all sounds wonderful. How lovely to have the little birdie interacting with you, that's a spin out. It sounds like a big yard with your trees and flower beds and all. I have a huge yard...the back is turned over to my goats and I'm trying to grow things out front...it's a slow process. I recently bought a very old garden tractor and my friend got it going for me so I was having lessons on it yesterday. It was a beautiful warm, sunny day and I mowed my front lawn. Pretty pleased with myself I am.

• United States
9 Jun 08
oh it was a hoot lol every night since this happened ive gone out onto the steps at about the same time to sit.. and hes come back to play and has brought friends. last night i had three different ones buzzing around playing zig zag round my head and darting in and out of the flowers making me giggle constantly lol grats on yer new tractor (it may be ol but its new to you!) enjoy yer yardwork/play. i know im loving mine


•
23 Jun 08
You have such a way with words you know, I really enjoy reading your stories you have a way about you that draws me in to the story. I always forget how little hummingbirds are, when I see pictures in the books they look a lot bigger because they have been blown up. I have never had an interaction like that with a wild thing, we do not get things like that in the garden and I just do not have that touch with animals to get them to trust me.

• United States
2 Jun 08
That's really cool. We don't get hummingbirds where I live.

I stayed with a friend down south, though and every morning the hummingbirds would come up to the sliding doors as I ate breakfast. I had never seen them up so close before. They are really neat little animals. So cute!

• United States
2 Jun 08
dunno where you are.. but im not southern. im in massachusetts and weve got scads of em here. just gotta put the feeders out

they are pretty awesome to watch.. but this was something else having him buzz right around our heads playing like this, it was great!!


• United States
2 Jun 08
I'm in upstate NY and have never seen them in my area. My aunt has them about an hour south of me so I don't know. We get a lot of other birds, though.

• United States
27 Jun 08
Fits & giggles, No. But playing with wildlife is common around my place. Seems everything comes to my porch to feed. Cats, possums, racoons, squirels, chipmonks, deer in the yard, you name it it's there. Not even mentioning all the lizards, frogs & snakes. Last week it was a grey rat snake that I got to play with for a while before returning to the trees. Gatta love living in the woods.