can you work on a very crowded place?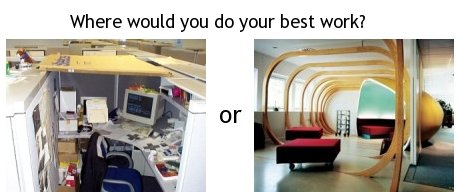 Philippines
June 3, 2008 9:51am CST
does physical space matters? can you work on a very crowded place? i know big companies have a lot of employee but still they manage to maximize their workplace and still make it suitable for creative working but there are also companies which don't make physical space a priority thinking they can still work even on a very crowded and messy place. i believe a good spacious workplace matters in creating productive employees. our minds need an environment suitable for creative thinking and imagining and i guess we will not produce efficiently when our place are very cluttered and unharmonized. i know we have different opinion so feel free to voice it out. do you have a good physical space at your workplace or you don't really mind at all as long as nobody disturb you.
6 responses

• India
3 Jun 08
Fortunately or unfortunately, I've spent 20 years in my job without ever dreaming of spaces.We still have a work culture, especially as in any other Govt firm, wherein it is 'do what I say , don't ask'.Tell me how could ever one thinks creatively ? Those organizations who look for and work for creativity would definitely mind work environment to be of suitable for excellency in performance.

• Philippines
4 Jun 08
I rarely spend time in the faculty room. Not because it is very crowded but because I do not want to listen to their useless discussions. I spend most of my working time in the classroom. If I need to work on some papers, I would either spend my time in the library or in the nearest cafe.

• Philippines
4 Jun 08
I am the type of person who can work in any situation... even in crowded places with a lot of clutter... as long as i have a big table in front of me... and no one is bothering me... i have no problem doing what i do best... most of the time i welcome the distraction... since i don't like a monotonous work day...

• United States
3 Jun 08
I agree with you djmarion, it will be hard for me to become effective and productive in my work if I will be put in a very crowded place. During my past works, I always thankful that we had a very conducive place where we can work and think more effectively!

• United States
3 Jun 08
Yeah I can work in a busy place. I do work at stop and shop and that place gets packed a lot with people buying food everyday. Ive never had a problem with it being busy except that I get tired. But I would pefer to work in an office by myself rather then in a big company. Especially if I have to think a lot because I dont really have to think at stop and shop.

• Canada
3 Jun 08
Yes, some work places can be very crowded. Fortunately , I have a nice spacious office, and the floor is not very crowded either , very pleasant work environment. Have a nice day !