Is £10 ($ 20) a week too much for veg?

June 4, 2008 8:06am CST
We've decided to get a £10 a week delivery of organic local veg and I think £10 is a fair amount but I'm not sure. Baring in mind that veg is mainly what we eat, being that my boyfriend is a vegetarian. We don't really buy much else. I never pay much attention to how much food costs as there isn't much choice and I usually get what cheapest, so have no idea. Do you think it is too much? How much do you reckon you spend on veg in a week.
4 responses

• United States
4 Jun 08
For two people, that sounds like a very reasonable amount. I eat mostly vegetables, too, and that's about what I spend every week just for myself. And, you're getting organics, so it's even a better deal. Organic fruits and vegetables where I live are so expensive. I just bought a big bag of organic spinach that cost me about $3.50 just for the one bag which will last a little bit over a week. But, I eat a lot of spinach.

•
4 Jun 08
I thought it was as it organic

It might be cheaper than the shops because it is a delivery service done by our local health food shop. We really wanted to eat seasonally as well being concerned about airmiles and we've been assured that the veg we are getting is locally sourced. It will also be interesting to see what we get every week as there is no set list of veg we will get.


• United States
4 Jun 08
There used to be a program in our area where we'd get fresh vegetables as well as some packaged items for about $20 a month and 2 hours of volunteer work. But, they mismanaged the money and the program shut down after about 20 years running. It was a great deal as a lot of people can't afford to eat healthy.

•
5 Jun 08
On an average week we probably spend about £6-£7 a week on veg but then none of us is vegetarian! I have to say too that I easily spend £10 on fruit and usually more - guess I ma lucky as my kids love fruit and veg and I never begrudge spending money on them! I think organic local veg is a great idea and if I weren't so lazy I would go out and source this myself! Good for you sweety! xx

•
5 Jun 08
We decided on the veg only but you could get £5 veg and £5 fruit or just £10 fruit. Most kids don't like fruit and veg so that's good to hear your kids do.

It's a shame organic veg isn't more available although it is getting easier to find it.

•
5 Jun 08
My daughter was really weird as a baby as she loved veg and hated fruit! lol As she has grown she has developed a real taste for fruit and often has 2 pieces in her lunchbox and dives for the fruit bowl as soon as she gets home and eats another couple of pieces! lol As for the organic stuff - I really miss that - my Grandad used to have a few allotments and grow all sorts of fruit and veg without chemicals etc and it was so delicious! xxx

•
6 Jun 08
One of my friends has an allotment but I just feel guilty when she gives me fruit and veg, even though she keeps saying there is far too much for her to eat.


• United States
7 Jun 08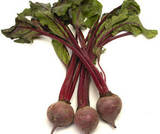 I think its a great deal. My area stores have lots of organic, as I live in a healthy area where people want to look good in a bathing suit. I'm buying more organic, which isn't solving the top of my body, but know I have to get use to a costly suit. My husband said at least I can't complain that I'm paying a lot for a little material.

•
21 Jul 08
You are so lucky, organic veg isn't impossible to find here but the supermarkets are so expensive and the only other place selling it is the health shop Real food, which is where we get our box from and they are reasonable but it is still more than normal veg.


• United States
5 Jun 08
I think that's good. My husband is the opposite of your boyfriend. He's a carnivore. He only wants to eat meat and potatoes, meat and rice, meat and pasta. Getting him to eat veggies has been a real challenge. I think you're lucky to have a delivery of local organic veggies. That sounds wonderful. You go for it!

•
6 Jun 08
I'm quite pleased with the quality of the veg and there isn't a weeks supply but that's a good thing as there will be no waste at all.

We have a friend like your husband and we made the mistake of taking him to a resturant that is more salad/veg orientated. He didn't eat much green stuff but said what he did was nice, which is a huge compliment from the carnivore that he is.