"English Medium" or your "Regional Language Medium"-Your studies..?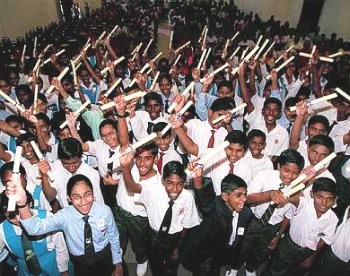 India
June 5, 2008 6:57am CST
Hey friends.. I have finished my schooling upto Secondary School (SSLC) through our regional Language medium only (Tamil Medium). During Higher Secondary, i forced to attend the classes in the English Medium, and the same has been carry forward to my College, but that is also very easy for us to understand. And the English is very common language where ever you go, but the regional Language you can use only with in your state or religion only.. But now a days, in most of the school, there is no "Regional language medium" at all.. the "Regional Language is one of the subject. thats all.. What do you think about this situations..?? How did you study, in which medium did you study/studying your schooling/College..?? Post your comments..
2 responses

• India
6 Jun 08
I'm an Indian...but never studied in a vernacular school. I grew up in the Middle East and though I studied in an Indian school (except the two years when I studied at an international school), it was an English medium school. I never even studied the language which is my mother tongue at school. I studied to read and write Malayalam (my mother tongue) at home when I was around 7 (many of my Keralite friends never learnt it and still don't know the language....including the keralites who studied in India). I think that's a shame. Personally, though children who study in the regional language medium are equally smart...sometimes they lose out in the world because they do not have a good hold over the English language. To avoid that, I suggest English medium schools...but the regional language also being a compulsory subject. Though I can read and write Malayalam, I'm not really very good in the language and can't speak eloquently in Malayalam....and I don't like that.

• India
5 Jun 08
I studied in english medium throught my school to college. I feel that, having english as the medium will be very useful for a person's carrier. As the country develops, there has been a strong fight towards the survivor of the fittest and english plays a vital role in it. So learning the subjects in english medium, will vital role towards development.