Have you seen The Vantage point?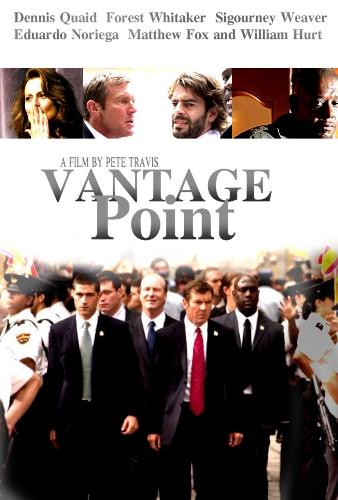 India
June 8, 2008 7:29am CST
I saw it last night and absolutely satisfied and thrilled by this slick flick.Dennis Quaid is at his best with his intense acting.He looks the agent he plays every inch.The movie is also made stylishly and told through the eyes of the eight characters before a terrorist bomb blast and abduction of the president of the United Stated.An absolute treat.Watch it you will live it.
7 responses

• Indonesia
10 Jun 08
I bought the DVD, but haven't got time to watch it. Many peoples said it's a good movie so i bought the DVD, can't wait to watch it, Dennise Quaid must gave all his best acting skills since he only got 8 lines dialog, so few for a big star like him LOL

• United States
6 Jul 08
I have seen this movie and bought it on dvd the other day. I really enjoyed this movie as Dennis Quaid is a very good actor as well as the other ones in the movie. It was very well done and was interesting how they made this movie through different views of the characters. I was surprised how good this movie turned out. It kept you glued to the screen.

• United States
2 Jul 08
Well, I did not "live" it or "love it." Actually did not care for much of it at all. Yes, it had a decent chase scene, but other than that it was as weak as my review at the following link states: http://www.associatedcontent.com/article/854903/vantage_point_not_very_sharp.html?cat=40

• Philippines
8 Jun 08
i've seen it months ago.. it kinda reminds me like the movie "babel" starring brad pitt where the perspective of the different characters in the movie are played out and in the end they are all reconciled. the concept of Vantage Point is not new to me, i've read in a school book a story similar to it though, of course, the movie is very modern compared to what i read. but for those who haven't seen it, go ahead and watch it. i agree, dennis quaid acted fine. i've gotten to like him as an actor with the movies i've seen him in, like The Flight of the Phoenix and that movie where he had a daughter who made out with his yuppie boss?

• United States
5 Jul 08
I just watched it yesterday. It was non-stop action from start to finish. I had to keep skipping back because my son was distracting me and it's a type of movie that you can't even look away from the screen for even a few seconds because you miss a lot though. I really liked the whole concept of the different points of view and the car chases were amazing.


• United States
8 Jun 08
I havent seen it but its on my Netflix list..I cant wait to check it out cause it really does look like a killer flick