currency your country using?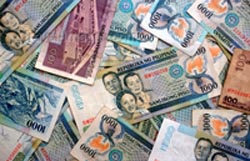 Philippines
June 8, 2008 10:48am CST
can you share about the currency that your country or place using?just wanna kNOw! PESO is the currency here in the Philippine Island..What about yours?
2 responses


• Singapore
11 Jul 08
Yes, I think this is probably the best thing about the introduction of the Euro. Not only have Europeans been saved the hassle of having to convert currencies in several countries, I think it has also become easier to compare prices between different countries. It's like I never knew that German cars are about 30 percent cheaper in Italy. I've not lived in Europe for several years since the Euro was introduced. Has the Euro created greater price competition and helped make things cheaper for Europeans? Of course, it is probably great fun being a European tourist in the US or any country that has a currency pegged to the US dollar. I think the Singapore dollar was pegged to the US dollar but is now pegged to a basket of currencies, of which the Euro should be included. It's quite telling - the US$ used to be worth about S$1.5 but is now around S$1.3 to the US$. However, its remained at about S$2 per Euro. I've noticed that people from the developing parts of Asia, where the US$ was used as the currency of trade have now turned to using Euros.