Update On My Mom, Dad And Me 6/8/08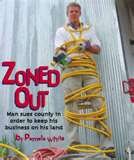 United States
June 8, 2008 10:41pm CST
Mom is doing better. Her trech has been removed and she's not on any oxygen at all however, she's being monitored to be sure she has enough oxygen in her blood. She's talking up a storm but is very depressed because she can't eat just yet. Now the hospital that she's in I feel is being very very cruel to her because she has another person sharing the room with my mom and this woman can eat and does. Yesterday this lady had fried chicken, mashed potatoes and who knows what else and here mom smells it and her mouth just waters for food. I've asked them to move her to a room where she'd be alone or with someone in the same situation that she's in, supposedly they were working on it but that was several days ago. How common can one get?? I'd like to throw each one of them into mom's situation and show them exactly how it feels but I can't. I know what goes around will come around but at the moment, I'm worried about mom's sanity and of course my own. Today is my dad's 76th birthday and when we went to leave, mom started crying. She's so fed up being bed bound that she just wants to go home and said that if she fails the swallowing test on Wednesday she's going to tell them to hell with it and remove the feeding tube and iv's because she's going home and let God handle the rest and what ever is meant to be will be. She's dead serious and I know she'll live up to her word. She's the type that you dare her to do something because she will do it in spite of hell just to prove her point. So in a way I understand her frustration because we've had to fight physical therapy twice to get them to do their damned job and they don't work on weekends... Oh good grief!! Give me a break!! It's ok for them to run mom's hospital bill up and up even when they're off. Someone should be there at all times to do the therapy EVERY DAY but apparently that's not the case. So mom is sick and tired of seeing the same ole four walls and wants to go home. I know I can handle her when she's home for I can help her get up and to the walker and I could use a chair to follow her so that if she were to get tired, she could sit down and I can bathe her and so on. I mean it would last probably two weeks till she got her strength back once again then she'd be able to get herself around again but for the first couple to few weeks, I'd be there day and night till she's well enough to care for herself but I'm scared she could fail but she has been doing so good and we think she'll pass but still, the what "if" is still there. I've got to go to dad's to pay their bills before they're considered late.... ARG!! So I won't be going to see mom because it's just too much. There's only so many hours in a day. I feel like a walking zombie because of so much has been put on me that I'm not able to sleep well and am tired all the deg gone time. I'm constantly going to this store or that store for myself and/or for my dad and then cleaning his house and then mine and going to see mom too. I so desperately need help and there isn't any because it's just me. Hubby is helping me when he can and his attitude has changed for the better but still, he can only do so much himself. And of course it doesn't end there.... my nephew and his new bride have rented mom and dad's old house because they want to buy it at the end of this year. Well my nephew has been such an irresponsible idiot for much of his grown up years but mom, dad and I thought he was doing good for the past three years with making the payments on his new car till we hear it was just repossessed! Soooo with his bad credit, we don't think he'll be able to buy the house after all unless they find another way to buy it which supposedly my nephew's wife's family is into the real estate business and want to help them buy the house. I need to talk to my nephew about it and see if he can get the ball rolling faster because it's a financial burden on mom and dad and they desperately need the darn money NOW or rather YESTERDAY. I don't know how the conversation will go but dang it... I'm more concerned for my parents than my idiotic nephew and his party life!! AND being that they're renting the place till they buy it, they agreed to cut the grass... they've moved in in Sept and have YET to cut the grass!! Mind you, mom and dad's old house is four hours north of where they live now! And with the gas prices and such, it'll cost too much for any of us to go up there and cut the grass although my nephew would be fitted with the bill of our gas and our time because he knew better when he signed and agreed to the lease terms. Now if he doesn't get it cut soon, the county will come in and cut it and send dad the bill!! Like dad needs another worry on his shoulders!! Damn my nephew!! I love the guy but deg gone it, GROW UP!! And last month his rent check bounced so he had to pay all the fees on both his account and my parents account. Dumb! Dumb! and Dumb!! That's like paying for something twice because of all the fees!! Dad jumped all over his case over it because he didn't need that problem added to all the worry he has with mom being as sick and depressed as she is. DAMN!! Yeah, another one, mom and dad have what we call a "mother in law" house next to theirs. They've rented it out and now the electric bill is in my parent's name. The renter agreed to pay the rent and the electric bill, well the guy came over yesterday proclaiming he only has such and such amount of money and if that doesn't cover the electric bill then he'd be more than willing to work it off. Well that's not the agreement!! So it's not going to swing either. Can someone get me the hell off this bus!! Or even this planet? Anyway, I want to let each and every one of you that if I don't comment to your response, it's not that I don't want to, it's because I'm so exhausted and zoned out that I just can't. Please bear with me because I've become this "B" inside and trying not to let it show but it's coming out in spurts but gosh, I can only take so much for so long, right? I am only human. I'M ONLY HUMAN!!
5 responses

• United States
9 Jun 08
It may be what it takes to get them going if your mom starts to refuse the tube feedings. My first husband did that in the nursing home. That hospital either has a Social Worker or a Social Services Designee, that should help you guys out. There also is posted SOMEWHERE a phone number for someone called an OMBUDSMAN or the hospital itself employs one.

Their job is to speak up for your mom.

I say to evict everyone from everything. You just cannot do it all and you are trying mightily my friend. Get some sleep,

eat healthy food. Decide what can be left undone, and do so. Orders from headquarters. I was told by a hospice social worker that no matter what I did, I could never make everything alright, so I needed to do the important things, the caring and human things, and enjoy my loved one. You too. Hugs, because I am sure you need them. Heather.

• United States
10 Jun 08
You're so right and that's basically all I do. I pick up after dad every time I'm there because he can't see that well and being that his counter top is colored a med to dark blues it's hard for even me to see the crumbs and then the floor, cat box, making sure the animals get clean bowls and fresh water, folding clothes, cleaning or even touching up bathrooms. I try to do things in touching up way instead of whole house cleaning so that it'll be easier to keep up with and to keep the bugs from making it a home there but gosh, it's just too much to keep doing it and see my mom because, mom is 31.5 miles south of me and dad is 30 miles north of me, trying to keep both ends upright is really tiring me out. I think once I get his bills paid then things will feel a little lighter but right now there's no more checks, had to order more so yatta yatta yatta, see what I mean?? lol It's insane!
BUT!!
I do have some
GREAT
news!! Mom got to eat pured foods tonight for the first time she got something to eat in about a month!! The doctor said she's doing so well with her walking - down the hall to the end and half way back - that he doesn't think she'd have any problems and he feels sure that she'll pass the test on Wednesday!! Yippee!! I can't wait to see her tomorrow!!


• United States
10 Jun 08

•
9 Jun 08
Putting you Mum in a room with someone who can eat when she is wanting to eat herself is just plain cruel. Why is it that hospitals do these things, its like when someone loses a baby, they get put on the same wards as those who have had healthy babies. It can sometimes be a bad idea renting to family, indeed by the sounds of it anyone. Why people take on these things if they are either not willing to pay or cannot afford it is not right. Your Dad is doing the right thing by not being soft on any of them but you are right, you do not need any of this. When all is said and done though I am glad that your Mum is still making good her recovery, although if you ask me she would be better off at home. Her recovery time would probably be a lot quicker as well. Take care xx

•
9 Jun 08
Oh honey thats what I have been trying to tell you - you are human and there is only so much you can do! I think it is shameful that the hospital have put a woman eating away at a healthy pace in the same room with your Mom when they know she is desperate to eat, that is almost a form of torture - in fact I believe it is mental torture and I would threaten to sue them for such if they don't move their backsides and sort it out! I know your Mom wants to come home in the strongest way and I can understand it and I can understand you wanting to care for her but think how exhausted you are now - it would be even worse if she were home and it could take much more than a few weeks honey and then there is the problem of any complications - I have to say to you to think very carefully before you go down that route sweetheart, not cos I am trying to put you down or don't think you are up to the challenge just that it would be a HUGE strain on anyone! As for your nephew I think I would be tempted to take him by the neck and shake him - he obviously knows the circumstances with your Mom and Dad and is not just being immature but also very inconsiderate and thoughtless - I would be tempted to give them so long to make a decision and then give them a date to vacate so that you can sell the house - I know that your parents obviously want to help him but they have to put themselves first right now! Don't worry about responding sweets - just you keep doing what you gotta do and try to get some rest - we'll see you soon. Hugs and continued prayers! xxx

• Garden Grove, California
9 Jun 08
catsndogs please please take care of yourself so you can better cope with all this tremendous load. dont worry aboutr my lot we are all okay. just get some much needed rest.glad your mom is getting better and now I send my prayers for you and your parents that your mom gets better and that you and your dad get some much needed sleep to restore yourselves. taking care of loved ones is a really hard task.

• Australia
16 Jun 08
I've felt guilty abour responding and giving you more to read but wanted you to know that I'm there with you and wishing you well. I won't respond anymore till your dear Mom is home safe n sound again. Please, please take care of yourself. Stop worrying about the money. Try to imagine all the bills are magically paid off. Feel the burden gone and the relief of it bringing a smilwe to your face and gladness to your heart. Hold those thoughts...it will happen!