i am a harry potter fanatic!

Philippines
7 responses

• United States
3 Nov 06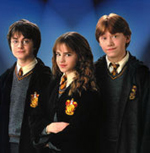 I also love Harry Potter. Many people think at 22 years old that is too old to be into them. I just started rereading the half blood prince last week. Ive seen all the movies and read all the books.

• Australia
3 Nov 06
Only people who haven't read them say that! I don't really think they're childrens book anymore, maybe at the start they were, but they've evolved so much as the characters mature

• Philippines
7 Nov 06
yes your absolutely right...and me, ive been dying to read all the books...how i wish i have a collection of them..


• Philippines
7 Nov 06
its ok infact its your decision and your choice. no one will argue about that...

• Australia
3 Nov 06
You should read the next couple books before the last one comes out! They just get better and better :)

• United States
3 Nov 06
I am 32 with four kids. I bought the sourcerers stone for my oldest boy. I started reading it to him, but he was interested in other things. So I read it and then all the others. I was worse than the kids waiting for the new books to come out and counting down the days!! I like the books more than the movies. I've made it a special treat to go to the movies with my son just to see if the movies are as good as the books. We bought all the dvds. I just hope Harry lives in the final one. JK is talking like she's going to kill him off so no one will be able to write more Harry Potter books. If he goes I'll be crying.

• Philippines
7 Nov 06
yah im also hoping that harry will live,, i also heard that harry will die im so excited to see the movie or read the last chapter..i also liked reading than watching cause i understand more if i read the book.

• United States
7 Nov 06
sadly what more can they do with harry potter?? harry potter gets married? has children? mebbe a robin williams moment where he for gets he's peter pan and they gotta take him back to neverneverland and remind him of his past??

• United States
7 Nov 06
I LOVE harry potter! i took my boyfriend to go see the 3rd movie for our 3 month anniversary (he doesn't watch movies) and he liked it too! i never read the 5th book, but i plan on reading it before watching the movie, because it's so much better! everytime i read the book i can't put it down.