Very sweet kitty story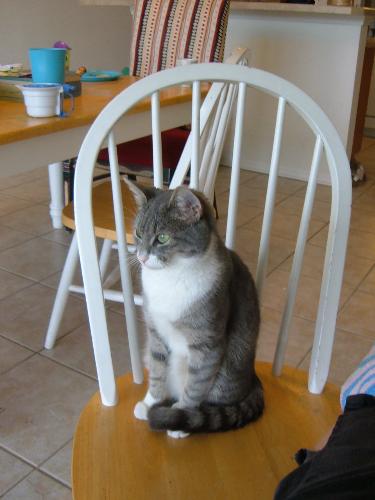 United States
June 10, 2008 9:51am CST
I have two cats. A mother and daughter. Well a while back they both got pregnant about a week apart. When the mother had her babies I was right there as always. When the daughter had hers I tried to be, but the mother cat laid down with her head next to her daughters and meowed sweetly and licked her daughter while her newborns nursed. She never left her side till that last one was born and was very aggravated when I tried to help. Some people say that animals do not form lasting relationships with their young but after seeing that I'd tell them they are so wrong. Has anyone else ever seen anything like this?
4 responses

• United States
22 Jul 08
Oh that is so sweet to hear about. I think cats and dogs are able to form lasting relationships. I think they are more like people than we realize. I think that mama cat realized that daughter kitty was hers and wanted to be there for her. I think that is lovely.

• United States
22 Jul 08
Yeah they have a great relationship except for right now. Ms.Molly is prego again (she's sneaky and got out before we got her to the vet) and is a little cranky with her daughter at times. Then there's other times she gets this pathetic meow going and Lucy will come over to love on her and they will fall asleep together. I love it when the do that

. Thanks for posting.

•
12 Jun 08
This is so sweet, who knew animals could be so adorbale. In a way it's like you and your mum, she's always there. It good that she feels this strong bond with her daughter which can help her alot. I have seen something a bit simalar, My cat's mother Jamie was having her 7th lot of babies and scratchy went by her side and helped her look after the kittens. This time it was the daughter helping the mother. It was cute and i know what you mean. I think Lucy is sweet, she sounds a very caring cat. I think it was Lucy who is the mom? If i am wrong please correct me, thankyou for your time. x x x x cazziecaz5 x x x x

• Malaysia
12 Jun 08
This is such a lovely story;') Yes, sometimes they act better than us, human. I never seen things like this before. But my late cat, MISHA, she's such a kind cat. Whenever i found lost kitty, I'll bring home and put next to her. And usually others will get mad and meowing like crazy, but misha didn't. Instead of that, she slept with the kittens, licked it and give milk to them. She's one of the wonderful cats I've ever had:')