Does your Cat sit on Top of your Computer?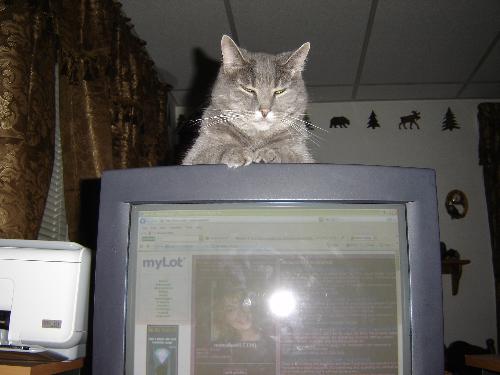 United States
June 10, 2008 11:13am CST
My cat always likes to hang out wherever I am. And, of course I am always at the computer! So she sits right on top of the monitor facing me and sleeps there. Check out the picture.
5 responses

• Philippines
10 Jun 08
oh luckily, my cat never does that. he likes to sit on top of shoes, slippers, newspapers, mats, or anything bulky or "protruding" lying around the floor. what a very cute and fat cat, btw. i wonder what you feed him coz mine is too picky when it comes to food that's why he is thin.

• United States
11 Jun 08
MIne gets on top of newspapers too. Is that your cat in your avatar? It doesn't look thin. My cat eats Purina Indoor Formula and also canned food like fancy feast or the store brand in those small cans.

• United States
10 Jun 08
My cat likes to sit on the mouse pad which tends to make it difficult to use the computer when she is there. Another odd place that she likes to sleep is in the basket where we keep our mail. She is way too big for the basket and hangs over the side but she seems to find it quite comfortable. Go figure.

• United States
11 Jun 08
Oh yea, I wonder why they do that? Mine gets in baskets that are too small for her too! I don't know how they can sleep like that.

• Norway
10 Jun 08
lol, My cat usually sitt beside me while I am using my laptop. But sometimes will I leave my laptop open for a few minuttes when I go and wash dishes or cooking, take a drink etc.... When I am gone will my cat sitt on my laptops keyboard and send random message to mine friend. Once I holded on her and want to take her away from it, but she hold on a few keys and made it fall out... XD

• United States
11 Jun 08
Your cat sends a random mesasge to your friend? Lol! That's funny. That reminds me of how my cat sometimes walks across the ansering machine before I get home and pushes the 'play' button and SHE hears the messages before I get home and since she doesn't hit the 'save' button next, there are no messages when I get home!!

• United States
10 Jun 08
My cats like to sleep on the back of my chair or on the bed besdie me or in the window beside me. My one kitty used to sit on my lap while I was using hte computer but she would get up and attack my cursor all the time so had to stop letting her sit with me.

• United States
10 Jun 08
Lol, I think mine gave up trying to sit on my lap. My tummy is getting too fat!

• United States
10 Jun 08
My webcam sits on top of my computer, it stares at me like a cat, does that count?