Do you like Artichokes, How do you cook them,how do you eat them?????

United States
June 10, 2008 1:15pm CST
I love artichokes and have grown them in Oregon. The easiest way I cook them is trim the leave ends off cut the bottom where the stem meets the globe,steam them in one inch of water(I put a little lemon juice in the water) bottom down for approx. 10 to 15 mins. depending on size. I make a dip for the leave ends and the heart (the best part) dip: melted butter with lemon juice, Mayo with horseraddish yummy. I also was traveling thru Calif. one time and hit the artichoke festival by accident. Wow it was fun. They had tiny artichokes deep fried? Have you seen this? What dip do you use? Did you evr try arichoke hearts in a salad? Yummy!
5 responses

• New York, New York
8 Aug 09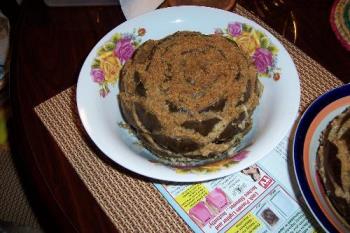 Mmmmmmmm, now I want to make some artichokes! I stuff them with Italian flavored breadcrumbs, garlic, pecorino romano cheese and olive oil. I steam them in one inch of water like you do. Unfortunately where I live they are not available all year round and they are expensive, I have paid up to $2.00 for one artichoke. Wish I lived in a place where they are cheaper.

• United States
8 Aug 09
They sure won't grow in Queens! LOL! I spent 6 months in Elmsford and liked it! But the costs are really high in NY! But the laborers on my job site were making 29.00 an hour, union so I guess it balances out! I was lucky and lived in Salem OR for a few years and I could grow my own, plus I made an asparagus bed and got that fresh twice a year! Lot of lemon and butter sauce. It was Great. Hey thanks I'm in Mexico now and we don't do artichokes here, I miss them!

tdemex

• United States
25 Jun 09
I know this discussion is a year old, but yummmmm!!!! I'm going to have to turn my email alert on for your discussion.


• United States
26 Jun 09
Not yet, but I'm on my way. All this is making me hungry like you would not believe.


• Canada
10 Jun 08
I love artichokes. My husband and I really like artichoke dip, and we often have artichokes on homemade pizza. My husband makes really really good homemade pizza.

• Canada
17 Jun 08
You're welcome. Thanks for the best response.

• Greece
5 Aug 09
Hi tdemex, when they are in season the markets have an abundance of them and old ladies sit on their front doors deftly peeling them. They make it look so easy and I'd sampled the hearts in olive oil plenty of time. So I thought I would prepare them myself. The lady on the market showed me how to peel them in about 10 seconds flat and I took them home. Armed with rubber gloves and a pan of lemon I was soon screaming from the stab wounds and watching them turn black before they hit the lemon. After a few hours I was proud of my jar of home prepared hearts in olive oil. What a pity they immediately went mouldy. I've never bough an artichoke since but they make a lovely soup from them at a local cafenion.

• United States
5 Aug 09
Funny story! I snip the end of the leaves off and just cut the stem flush with the bottom. Steam them in water with some lemon juice in it! Then they come apart very easy, I dip the ends of the leaves in a mayo and sour cream dip, and use my teeth to gently scrape the god part off in my mouth as I pull it out! When I get to heart it's like a reward!

tdemex

• United States
7 Jul 09
I love artichokes, but usually am quite confused as to what to do with fresh ones. :) To fix this little problem I usually buy the little frozen steamable bags of them and cook them in the microwave, then pour them in a bowl and put some olive oil and balsamic vinegar over the top. I got this idea from the little jars of artichokes you can buy at the grocery that are in vinegar. It's really good and satisfies the craving for them. :)