"Surprise Me" he said...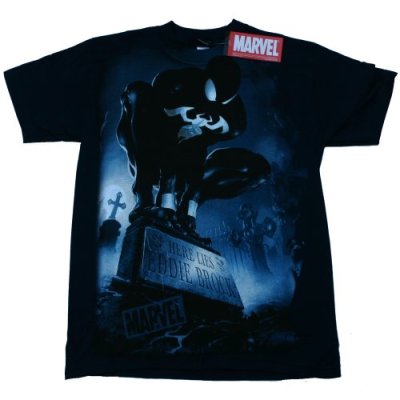 Trinidad And Tobago
June 10, 2008 1:20pm CST
SO I have a friend whose birthday is one week before mine and like me, he loves comics! We go crazy over anything Marvel and DC... Well recently they released Iron Man as you all know and then the Dark Knight is coming out very soon. There are so many t-shirts with wonderful designs on it, I can't choose! So I actually decided to ask him if he wanted Iron Man or Dark Knight and he said "surprise me" and he added on, I'm not worried, you have good taste. So, I just asked him his T-shirt size and that was it. I went to Amazon to purchase it for multiple reasons 1. I have a hard time finding Marvel T-shirts here. 2. He lives in England and I live in Trinidad so I'd just let Amazon take care of the shipping. 3. I have money on an Amazon gift certificate from the last month of Mturking in my spare...yes, enough to buy a gift for my friend AND pay shipping costs too! Anyway, my point is, he said "surprise me"...right?...so I think I am going to really surprise him! Check out the jersey I picked for him instead...if I had enough I'd buy one for myself! Do you guys like it or should I go with something different? I have picked out an iron man one that looks cool too... I think I need opinions! But I don't know if I can post the link here...for the other one but I posted the spidey one cause I like it alot... Thanks!
2 responses

•
10 Jun 08
I personally am not a fan of it, but then again I am not into anything Marvel or DC, so that will be why. If he likes that sort of thing then he is likely to like that T-shirt, so you should give it to him, especially as you have bought it now. I hope he does like it and gives you something equally as great for your birthday.

• Trinidad And Tobago
11 Jun 08
Hi Elixiress, Thanks...I haven't bought it yet, I'm going to finally purchase it tomorrow. But yeah, he and I are totally into comics so I guess if I like it he would! He has given me a venom tee for my last birthday and always sends sweet cards for holidays, etc. Plus I'm not looking to get anything back


•
11 Jun 08
He will probably give you something in return. My boyfriend's birthday is coming up to, I had to tell him what I was getting him, because he was going to buy it himself tomorrow, so he got really excited =D

• United States
10 Jun 08
I think that the shirt looks pretty cool. Hopefully he will enjoy it and if not he could always return it and pick out something else. Sounds like you would be willing to take it off his hands if he does not like it. lol

• Trinidad And Tobago
11 Jun 08
Haha, oh man you are so right. If he decides he doesn't like it (which is highly unlikely!) I would definitely tell him to send it straight to me

. I'm glad you think the shirt looks cool