What you need to know about my cats....

United States
June 11, 2008 3:07pm CST
If, for whatever pressing reason, you had to give up your cat(s), what specific tips would you have for the new owner? Here are a few of mine: - Keep the cats indoors in a safe, clean environment. - Give them love and attention, especially Columbus. He's up in years and loves to be petted. He's also very sweet, quiet and playful. - Don't worry about buying expensive toys for any of the cats, such as toy mice. The cats will not play with such toys and you will have wasted your money. - My cats, overall, prefer Friskies turkey and giblets, though they will eat beef, salmon, whitefish and mixed grill. - My cats have plenty of company and really wouldn't appreciate another cat around. - Be prepared to feed all of my cats first thing in the morning. One of them, Waffles, will make it a point to remind you of that fact by jumping on the bed and walking on it and you. If you ignore her, she will plop her fat self next to your back or butt, curl up and wait for you to change your mind and get up and feed her.
5 responses

• Singapore
12 Jun 08
Cats can be relatively weird creatures though and they can vary from individual to individual. It is harder to generalise cats than other animals because some cats have very weird habits, for example a strong liking for coffee or even durians, habit to play with dogs, etc.

• United States
12 Jun 08
Just thinking of giving one of my cats away is hard. My cats are like my children,but by some chance i had to give them away i would type out a whole list of there traits, habits, what they like to eat and what they like to play with. I dont buy any toys really for my cats except ping pong balls, they love them! and they love there cat condo, but other than that there happy just playing with each other or a crumpled piece of paper. I would defaintly check the person out that i was giving my cats to, make sure they'd take really good care of them.

• United States
12 Jun 08
Bring A box into the house every now and then so that Jake and Scoots, can cuddle in it. Protect Scoots from Jake, because he likes to attack her every now and then. Pet Jake, and let him know that you are there for him during a thunder storm. Leave your closet door open at times, so Jake can go in and rest on your shoes. Give Scoots some chicken now and then. DON'T let them get outside. Jake is afraid of traffic noises. In the morning, give Jake a pinch of fish food. Have a blankie and a fluffy stuffed animal always available for Scoots.

• United States
11 Jun 08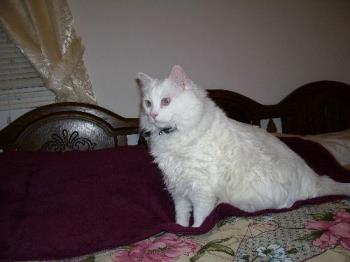 I could not imagine giving up my cats, but if there was no choice in that matter I would insist that they be treated according to their individual personalities dictate. Sissy is neurotic and afraid of her own shadow and has been like that since birth. Don't try to force her to be friends, she will come around when she is ready. And she hates to be touched unless it is at her request. Buff is the undisputed king of the house and is totally in charge of making sure they are fed at exactly the right time. He also acts as our alarm clock and will come in to wake us up at the right time in the morning (around 4:00 a.m.) and he will tell you when it is time for their canned food at 4:00 p.m. Dry food all the time in between those hours. Buffy is loving and will follow me from room to room (including the bathroom) and no door is to be closed to him.

• United States
11 Jun 08
My cats are my delights and my joys. I would be hard pressed to give them to anyone. But if it were vitally necessary, I would ask that they be treated as I have treated them. They should be allowed to walk wherever they want to walk, sleep wherever they want to sleep. They should eat either Wellness or Natural Balance canned food. Peaches should get her drops; Josie, Peaches and Arthur should get their Cosequin; Arthur should get his 1/2 pill. They should eat breakfast at 9AM and dinner at 6PM in their special bowls. They should be loved beyond measure, petted when desired, hugged at your own risk and respected as delightful family members.