Virtual World..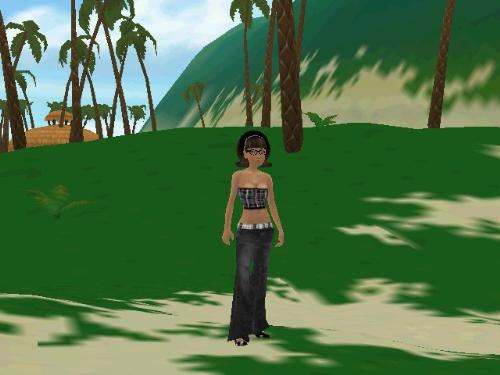 United States
June 11, 2008 8:16pm CST
Virtual World.. How many of you heard about www.there.com? It's a virtual world that is very popular. I heard about it from the "Dr. Phil Show" a while back & thought I would check it out. So I checked it out & now I'm hooked on it. I never thought I could get so involved in an online virtual game, but I am… very addicting! My user name is FOXXEE on the virtual game & if you ever check it out & want to learn the ropes of this virtual game, hit me up! The virtual game "THERE" is for all ages & it's easy to play. It's actually one of the best virtual games there is. I think it's better then "Second Life" another virtual game online. If you like "SIMS" then you will LOVE the virtual world of "THERE"! You can talk with other users while driving buggies, helicopters, boards, & so on. You can dance with other avies, socialize & so much more! Buying clothes, homes, clubs, & so on is also another popular thing.. Plus you can change the look of your avie… Anyway, check it out at: www.there.com
2 responses

• Abernathy, Texas
27 Jun 08
I will definitely check it out. I can't afford to be addcited though. My husband, already addicted to screens rather then the real world is newly addicted to world of warcraft, he comes in from work, sits down at the computer and puts on his headphones and is effectively separted from the real world. If I do the same, who will watch our toddler. :)-- I'm going to go there now and check it out. What was Dr. Phil saying about it? Was he counseling families addicted?

• United States
27 Jun 08
On the Dr. Phil Show they talked about different people & their addictions & so on. One of the guest was a mother who talked about her daughter being addicted to the online virtual game "THERE". They also showed Dr. Phil on the online virtual world trying it out for the first time. He wasn't counceling anyone on the show that I remember, it was more about seeing the different things people are addicted to... Although he did advise mom to cut down the amount of time she let her daughter play on the game & that is understandable because she was a little hooked! As for me, I have a toddler as well & I also have a 5 year old. I get on the game at nights though, plus we have a rule in our home that nobody can be on the computer if the kids are home or awake. So only time I'm on is at nights, naps or school time. The game is fun, but I think as parents we can control when we need to be on or off. So I think you will be okay. Hope you have fun in the virtual world... :)

• United States
12 Jun 08
i've never heard of it before. i have heard of second life though. i haven't checked games like that out though. i think they sound fun but unless its making me money, i don't have time to play it. i'm a stay at home mom of 3 kids, so i need to do what i can to make extra money. i play games on here that i can earn money, even if just a little. that way i can have fun playing games but i'm also doing something to help my family.

• United States
12 Jun 08
Yeah, well good luck trying to support your family from playing games online... I hope it works out the way you want in the long run. From what I have heard, you can't really support a family from playing games online or doing those surveys that are suppose to pay. Sometimes it's better to just go out and get a real job, if your family really needs the money that is...