June 12th - Red Rose Day - What is your favorite color of roses?

United States
June 12, 2008 5:14am CST
Single Red Rose "I love you" Red roses convey a simple message: "I love you". This makes them the ultimate symbol of romantic love and the most popular choice on Valentine's Day. Other meanings for red roses include desire, passion, courage, respect, beauty and sincerity. A red rosebud symbolizes purity and loveliness. My favorite have always been white, red, and yellow.
4 responses

• United States
12 Jun 08
My absolutel FAV rose is a black rose which of course really ISNT black its a very dark deep red...I think they are just beautiful

• United States
13 Jun 08
I love all colored roses.

My favorite would have to be either a mixed color (white/pink) or the red ones that look velvet like.

• United States
13 Jun 08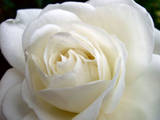 My favorite is the white rose, which is perfect to give to a friend. It also means peace, so I have been known to give one when I'm completely wrong to say I'm sorry and lets be friends and move on from this situation. Another reason you will see white roses as many people have them at their wedding. Its a sign of innocence. Here is a white rose, which is my favorite.

• United States
12 Jun 08
I would say Salmon colored roses....... I had these Roses in My Wedding Bouquet , along with purple-Status, I just love the Combination of Statis , and Roses.......Especially in My Bouquet. My Wedding was Beautiful! I had the Fairy-tale Wedding.....I Married Prince-Charming.....That's why noone else can Find Him. ' Sorry girls....he's off the MArket! ( For 12 years now too )