Noisy neighbors: what to do?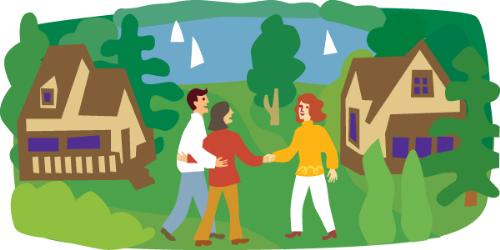 Philippines
June 12, 2008 5:27am CST
Our neighbors are singing karaoke or videoke right now. They're so noisy, it's giving me a headache. What can I do about this? I tried closing all my windows, but I could still hear them.

Have you experienced having noisy neighbors? What do you do about it?
5 responses

• Philippines
12 Jun 08
oh yes i had experience that already...i was living in a compound and this people wont shut up even for a sec..they party all the time..they shout like hell..they invite friends from here and there and when its time for me to sleep they just love to do something very irritating that it bothers my sleep...considering they know the fact that i work on night shift on the afternoon i need some peace and quiet time to sleep..bonus, their children play infront of my screen door and was banging on my door...amazing isn't it? well yeah its amazing for them also when i finally got tired and just hit them one time only..i called the local police to shut them up..pretty nice..

• Philippines
20 Jul 08
Nice. Some people really don't have considerations with their neighbors. They think that because they live in that place, and paid rent (or how it was to get the place), they can do anything as they please. Yes, it is their right to do what they want in their homes, but I hope they would just consider other people too. They're not the only people in this world. If they don't want to be bothered by people trying to put limitations to their activities, then they should go somewhere where they won't have neighbors, or rules to bind them. Calling the police was a nice idea. They should think twice next time.

• Philippines
12 Jun 08
The most diplomatic way of course is to talk to them...if that's not possible, have somebody tell them, or a go-between or drop hints in whatever way you can...you really have to let them know your difficulty....

• Philippines
12 Jun 08
Hmmm maybe... But I'm afraid I might anger them. And then they would go up against everything I do. There'd be friction amongst neighbors, and instead of being able to relax at home, I'll be more stressed. But thanks anyway about your advice. Maybe I'd ask someone to talk to them.

• United States
15 Jun 08
I know how that goes. I have a similar situation in my apartment with neighbors who yell and scream, play drums or make other noise. Have you tried to talk to them? If that doesn't help, have you tried to talk to management or the police? I hope the situation improves soon. Good luck!!!

• United States
15 Jun 08
I know how that goes. I live in an apartment and I have some very noisy neighbors. I was visiting with the lady downstairs and people outside her door were making lots of noise and there were fights going on (the police even came to check up on the situation). Have you tried to talk to them? I

• Philippines
29 Jul 08
i know how irritating that is. i've experienced that a lot of times. neighbors singing in videoke during happy occasions. and even if i close all my windows, i'd still hear it because they are singing in an open space and my room isn't exactly noise proof when the windows are shut down. the last time i went under this annoyance was during my niece's (from a cousin) debut which was held in front of my uncle's house which was just in front of our house. i had a hard time sleeping then and i was only able to sleep at midnight. it was annoying. but i couldn't do anything about it because they were just having fun and a debut only happens once. fiestas happen only once a year, and so as birthdays, Christmas and other occasions. so i just let it pass. but if a neighbor makes noise every night, now that's a different thing. i'd go berserk.