Eating Out or Packing Food...?

India
June 13, 2008 2:11am CST
I am generally very outgoing by nature i love going out and naturally eating out whenever i tell my husband tht lets eat out he will say let us pack food and take home...then we have an arguement i like to eat out bcoz i sit in a nice ambience , good music, a steward serving the food water while we just chill...for him it is just food..why cant he see the other things related to it..i wud rather go home and cook a quick meal and eat rather than spending money and having packed food at home.....i hate carrying packed food unless an emergency....wt about u ..do u like eating at the restaurant or packing the food and eating at home..?
3 responses

• Pakistan
13 Jun 08
Hey dear dont forget i am male too and sure a husband as well. i mostly like to eat at home and not much fond of eating out, and some days when its no mood to cook at home, we get the food at home and enjoy it and if we go out in resturant then eat there and dont bring it at home. but u should obey ur hubby and follow what he say


• India
15 Jun 08
i dont really obey him..but dont i deserve an outing once a week he can rest through the day...he wants to eat outsde food but sitting at home how is tht change where is the outing u keep on sitting indoors..u r my friend why r u taking my huibbys side...hee hee just kidding..have a nice day..

• Pakistan
16 Jun 08
Hi dear well u r my friend and i want u in peace and happy and its only possible when u have nice relation with hubby

well if he like to eat outside food then eating out is no problem. if not once a week then once in fortnightly is Ok, wwhat u think my dear dar friend



• India
14 Jun 08
Hello,nupats!The restaurant foods,foods from fast food center,or packaged foods have gained much popularity in the recent years due to busy life styles of majority of our women folks.however,these foods are in no way congenial for your health and may contribute to an array of diseases.they also play a major role in lifestyle disorders like diabetes,obesity,blood pressure,etc.pregnant and lactating mothers should avoid these foods.from the nutritional aspects nothing can replace freshly cooked balanced wholesome meals.so you should avoid these foods right from now.thanx.

• India
13 Jun 08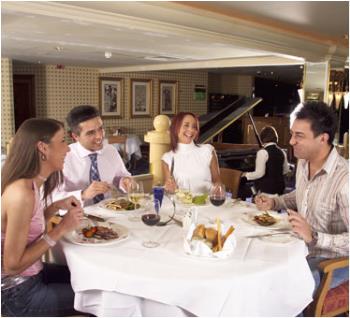 Yes, you are right.. during the weekends, going out for only relaxations.. sitting the A/C restaurent, ordered for the items which we will not able to prepare at home.. ie., not a regular items like Idly, Dosa etc.. and wait for some times, hear a music.. and chit chat with some of our earlier moments, Its really a quite good experiecne.. Going out only for a change.. its always better to have your dinner in the restaurent itself.. with full of joy and enjoyment.. Carrying pocket is also advisable, when ever we received some of the guest, in the unespected moments.. may be in the late evening or so.. we will not be able to prepare anything at that time, its advisable to bring the food pockets from the hotel, and we will serve it at home.. All the very best..