There's nothing like the smell of newly mown grass! Am I right?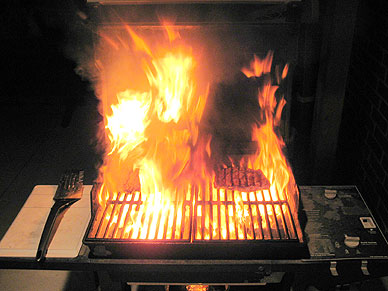 Gloucester City, New Jersey
June 13, 2008 11:11am CST
It can be the lawn or a field of hay or even a field of wild grass - there's just a "fresh" smell to it that I can enjoy, despite what allergies I have. There are other scents I enjoy as well, like how an orange smells when it's being peeled, or the smell you get when you first walk into a flower shop, that yeasty smell of a bakery that does their own baking, the smell of a fireplace when the weather gets cool or even the wonderful smell of flame-kissed meat as you walk or drive past a steakhouse (even if you've eaten, it smells so wonderful). What scents do you notice in the world around you that you can really enjoy?
5 responses

• Malaysia
13 Jul 08
Yes. There are so many natural scents in the our world that worth enjoying. I like all those aromatic smell mentioned by you. Besides, I like the scent of tropical forest as well. It's just different from the air in the urban area. Besides, I like the the smell when we are peeling the orange. The smell of the damped air after a night rain fall is not bad too!

• Gloucester City, New Jersey
13 Jul 08
I forgot about oranges - I love it when someone's eating one and peeling it! Mmmmmmm! The smell of rain is a good one, too. It's been a long time since I was in a tropical forest, but I can agree with that one, too, because it smells good in our woods, so I can imagine the other!

• Malaysia
14 Jul 08
Thanks for agreeing with me

The smell of orange is so tempting, and it makes me feel to have more of them. You have been tropical forest? When was it? I think the wood in your place will give different air than other place too. It's rainy season now, and I am enjoying the air just this morning. The damp cool air just make my mind fresh


• Gloucester City, New Jersey
14 Jul 08
When I was a child, we lived in Venezuela. There was a rain forest between where we lived and the beach. And, there was a forested mountain behind our school that we would hike up. Granted, not quite as completely tropical as the Amazon forest, but not too far off. Year round greenery. It was wonderful!!! I like all wooded areas - trees clean our air and keep us with oxygen. Whoever doesn't like trees needs to go live on Mars!! LOL If you ever get a chance, check out a pine forest - there's a fragrance there that is unlike all others.


• United States
14 Jun 08
I'm sure glad I'm taking allergy meds daily or I wouldn't be able to enjoy the fresh smells I so love. Fresh-mown grass and alfalfa, just-cut chives and basil, the air after a refreshing rain, cinnimon, maple and brown sugar oatmeal, fresh-cut walnut, wood smoke, the scent of my hubby after his shower (love old spice body wash). Ohhhhhhhhh and how can I forget..the smell that burst out of my grandma's kitchen whenever she was cooking her Italian dishes for Sunday dinners.

• Gloucester City, New Jersey
13 Jul 08
I love the smell of pine and cedar, but learned, to my dismay, after staying in a motel in Vermont that was decorated to look like a log cedar cabin inside, that I am allergic to cedar!! It smelled to fresh and wonderful in there. As a kid, I swam in cedar water lakes that we have here in South Jersey with no problems. My mother has a cedar chest - again no problem. I even have a cedar lined closet in my apartment and haven't had any issues. But, sleeping there all night....well, that was an entirely different problem! When I woke in the morning, my eyes were burning, puffy and watery and my nose was so stuffy - the drainage was horrible!!! Funny thing is, I'd go there again - but I'd prepare in advance. Take an extra dose of allergy meds before going to bed. If it was still a problem - well, I'd have to never do it again. But, I did like that little motel outside of Bennington. I wouldn't mind being there again. By the way - I'm sorry I didn't respond earlier. I have no idea why - but, I had another response today and saw yours. I'm sorry!!

• United States
16 Jul 08
Quite alright, my friend. There were a few times where I had rsponses to my discussions and didn't even know it till I was going thru marking best responses. Grrrrrrrrrrrrrrrr...I HATE these library computers. Either they are too dang slow or the keyboard/mouse don't work right.

• United States
13 Jun 08
Fresh cut grass signals the start of spring to me. It puts a smile on my face. I also like the smell of my childs hair after it is newly washed. And the Sunday morning smell of bacon frying. Makes me hungry just thinking about it.

• Gloucester City, New Jersey
13 Jun 08
And, bacon!! How could I forget bacon and the smokehouse scents at our local pork store!! Wow - I sure missed some. I do like the way my daughter's hair smells after she uses some shampoos. Pearberry is one and Fructis (I think that's it) is another. Great fragrances.


• Gloucester City, New Jersey
13 Jun 08
Oooo - I forgot about coffee!! I doctor my coffee - I have decided I do it so it will taste at least a little bit like it smells!! LOL So good!! And, I never thought about books - you're right. I love being in libraries and bookstores - but never thought about the scent of them until now. You're right!! Wow! Thanks!