do you think people's preference on clothes has relation with global warming?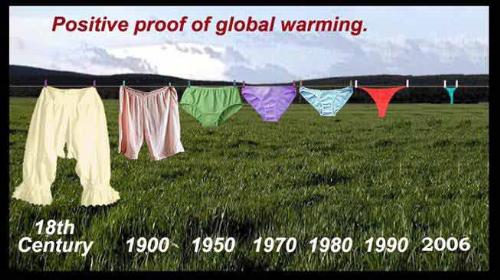 Indonesia
June 14, 2008 12:30am CST
Okay, I stumbled on funny picture titled "Positive Proof of Global Warming". The picture was actually from a friend and I almost fell off my chair when I saw the picture. I hope that showing this picture is not against myLot's rule. I just want to let you know why I raise such question in this discussion. It is because of this picture. Honestly I don't even have idea that females underwear have such history like the ones inside the picture. LOL. Anyway, do you think that people's preference on clothes really has relation with global warming issue? I mean, even unconsciously they have picked up the styles of clothes, unaware of that, but has any relation with climate change? (aside from winter versus summer, also aside from certain nations cultures that require the people to only wear certain category of clothes) I remember back then females always had long dresses, but nowadays, mostly we have middle length skirts, or some even have mini skirts. So, this is also a question mark in my mind. This is interesting somehow.

2 responses

• United States
14 Jun 08
I don't think it has anything to do with climate change. Styles have changed so much for so long and we've only recently seen changes in the climate. Manufacturing of clothing (large companies) might be lending a bit to climate change by producing large amounts of CO2. But I think climate change is only slightly associated with our (humans) production and use of products that produce CO2. Global warming has occurred throughout the history of the Earth. It goes in cycles and has been since the beginning of time. The fact that it is happening faster than ever in history (according to the 'experts') might or might not be connected with what we have been doing to our world. This may just be a natural phenomenon and we have nothing to do with it. But what we wear? No, I don't believe that has anything to do with climate change... well, at least not the Earth's climate change. Skimpy clothing on women may change the climate immediately surrounding any males who may be in the vicinity!


• Indonesia
15 Jun 08
LOL. I'm also thinking the same especially your last sentence. :P The style of clothing, I guess it's mostly about the new invention of fashion taste and I think humans are full of innovative ideas.

the global warming has indeed been occurring throughout the history of the Earth and I think our consumptive style of living and transportation and some unawareness of humans way of treating the environment have caused all these impacts towards our Earth. however, I'm still 'marvelled' by the picture artist's sense of humor, not to mention that I didn't know that women during the history, have been through so rich invention of clothing, even for such the hidden parts (well, I have only lived around less than 30 years, never had such underwear history even in mind). LOL.

• United States
15 Jun 08
I think I got stuck in the 1970s because I've never worn those last two types! I like a little more "coverage" and the last two look like they are more for style than for comfort. Give me comfort every time! LOL

• Indonesia
20 Jun 08
I also stick with the 1970s too.

the last two, especially 2006 one, are surely out of my list. LOL. but the idea of comparing underwear styles from time to time for 'global warming proof' is hillarious.


• India
15 Jun 08
Dear friend, I hope not in the case of all people, but there are people who do wear clothes according the job, their purpose like to swim we usually wear swimwear, while jogging or playing we use other sports wear, so on. This is another way to change or preference in dressing according to the purpose they are the climate do have it own effect as we use raincoats while raining so on may be we use much of light clothes during summer and so on in connection to global warming we more need eco- friendly may be plastic clothes may be raincoats should be taken care alternative clothes products which are more of eco friendly could help those concenred with fashion, styles, cost, quality so on other aspects to be considered while much preference is given to eco friendly clothes taken with concern to global warming. I hope people would welcome it if the it is much comfortable and fashionale with a justifiable price.


• Indonesia
20 Jun 08
well, yes, it is true for some cases like in winter we don't wear something thin. and we won't go to the poles with bikini. LOL. but I wonder if the Earth is getting hot and really hot, how would the effect on our clothes' style? I still love clothes that are enough covering my body after all. I don't like those that are too opened.