Our Children

United States
June 15, 2008 11:00pm CST
you know.. isnt it so amazing how its seem like these babies just learns so much so fast. it just blows my mind to see the things my two year old is doing already, i, mean to be just turning two. she talks so good almost better than my four year old. i dont know how i did it, but i had her potty trained since 1 yrs. old and i didnt think that was possible for her to be so young. i jus cant believe it maybe its just me but i know for a fact its not just my kid. its almost like its something floating around in the air. our children are a gift and their our special gift thats given only to us for a reason.
11 responses

• Garden Grove, California
17 Jun 08
You are so right our children are a gift and so special that they are only given to us. watching them grow and learn'and mature is so fascinating. I will never forget when my son, hes now fifty, was elevenmonths old and he started running after a leaf that was being blown along the sidewalk by a breeze. It was like that with everything he did, he must not have read the baby books as he did everything earlier than the books said he would do. lol.He talked early,,walked early and I had such fun watching him.

• Bahamas
16 Jun 08
I think the same way about my kids all the time.My 11 month old daughter I swear has been here in this world before,some of the things she does truly amazes me.My 6 year old son has the most imaginative mind,some of the stuff he comes up with we are like oh gosh what will he think of next.Even his teachers are amazed at the things he says.Children are truly a blessing and sometimes we take them for granted and dont realize their worth and how truly precious they are to us.

• United States
16 Jun 08
Children are a precious gift and it is great to hear them being appreciated as such.

•
16 Jun 08
kids are brilliant and to watch them develop in to little people is amazing, I have a 4 year old and I sometimes have to remind myself that she is only 4 because she is grown up and I even have a 8 month old little boy and he is trying to walk and everything already. How they grow

• Philippines
16 Jun 08
i don't have kids yet but i have little nephew and niece whose crazy most of the time because of their crazy talents or newly discovered stuff from tv or from somewhere in their neighborhood. my two-year-old niece knows how to dance like the famous dancer we have in the country whom she can watch on tv everyday and practice her stepping everyday. so when you ask her, she would do it in front of you without second asking. hehehe.. my four-year-old nephew can sing 'Low' by Flo Rida. hahaha.. the funny thing is that he can't make out all the words but still would sing unknown wordings. he sound so funny.

• United States
16 Jun 08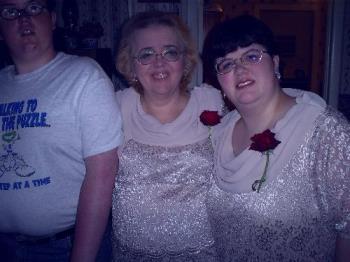 My children are ages 21 and 15 but I can remember what you are talking about. They grow up way too fast!! They are indeed a special gift from God and I love my two dearly. I have told them that they will always be my babies no matter how old they are. They both have gone through a lot since they have been in this world. My daughter was born with a congenital heart defect and had to have surgery at four months old. My son had to have cataracts removed from both eyes when he was five years old and then when he started school he was having some problems and as a result we got him tested and he was diagnosed with autism under the asperger umbrella. But they both have done so well to have had the problems they had and it seems like they ought to still be little in my heart. My daughter is fixing to start her fourth year of college and my son will be in 10th grade when school starts back. I know that God has a reason for letting them go through what they had to as babies. Have a wonderful day!SheliaLee

• Philippines
16 Jun 08
Yes children are gifts, and actually inheritance from God. I have a grandsons by my niece and they are twins and they are of the same age as your baby and each day I would also hear them talking like grown up people and even imitating the way the words are delivered. This twins brightens my every day and I love them so.

• India
16 Jun 08
Nice. I will teach my son/daughter Kungfu the moment they start walking. =D . Kids learn everything faster.

• Philippines
16 Jun 08
Yes, I do agree with you. I've been married for more than five years now and God has gifted us one loving daughter who is turning three this year. I still could remember how my husband and I were so anxious to have a child. And when she finally came to us, we were extremely happy. However, aside from the fact that prices of basic commodities have soared high, she is going to attend school in two years time. And I've got to admit that we're still low on cash for her education. At present, I'm the only one working for my own family because my husband has no stable job. Sad to say that even my salary isn't sufficient for the three of us and most of the time, my net pay goes to paying a partial amount of all our outstanding obligation, plus house rental, public transportation fare, groceries including milk for our daughter. These are the very reasons my husband and I decided that one of us is going to work abroad. It's quite timely because the company I'm working with right now is experiencing a financial crisis. They are planning to close shop but naturally, they are going to pay us for our years of service with them, and this is what we call locally as "separation pay." We're hopeful that by next year, I'm already working in another Asian country and we will be able to purchase our own house and lot and save up for our daughter's education, with God's help and mercy.

• United States
16 Jun 08
The children today are amazing.They learn a lot faster it seems then years ago,maybe it is something in the air.My daughter was pretty smart to she new her alphabet and numbers at 2.I even told her kindergarten teacher,academically you don't need to teach her much,but socially she needs help. L.O.L .At the end of the year she told me I was right. I love to watch a babies 1st smile and all the little milestones they hit.I just think they hit them too fast.If only they could stay babies and toddlers a little longer. Jas

•
16 Jun 08
My daughter was very quick to learn everything too. She was saying small phrases by 11 months and saying big words like "accident" before she was two. By the time she was 2 she knew her alphabet and numbers to 10 in english and spanish. She also knew all her color and farm animals. Everything to start kidnergarden. She is now going into 2nd grade next year and doing well. They seem to be pushing kids a lot harder in school than they did when were in school. She is reading so good already and doing pretty hard math including multiplication. It just blows me away. Just makes you wonder what more is to come with these brilliant children we have.