College life...
Philippines
November 3, 2006 12:52am CST
What do you missed most in your college life? If ever given the chance to turn back time, what is it that you really want to do back in your college life?
7 responses

• India
3 Nov 06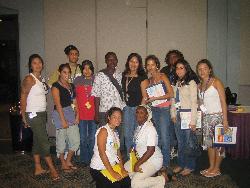 college life is full of colors,exictment,friends,dating,boozing,hangingout and evrything wht the colligians reqire.i'm in coll from 3 yrs now and a lot 2 go ahead.but let me tell u dat i'm enjoying as well as studying.and 2 addup v get vactions a lot 2 enjoy. i wish i could b 18 till i die.coz 18 will always keep me in college and enjoying
• Philippines
3 Nov 06
I graduated at the age of 20, now Im 30 years old. I can still recall what u have mentioned that happened in my college life.


• Pakistan
3 Nov 06
I took an adimission in a college recently. I think that every student misses his/her student life forever.

• India
5 Dec 06

now i m married so, i have lots of responsibilities,,, on my shoulder,, so when i alone i miss my college life,, more than any thing.. now i have not much friends,, i wnat to be freekout with friends,, just go out watch movies,, lots of things to do yr,, i want when i gp back to home i dont think what should i have to prepare,, that should be taken care by my mom... mom i miss u,, i miss college life,,

• India
5 Nov 06
i will miss yu till the end .. no matter whereve u go no matter whereve u r .. u ll be in ma mind .. i still remember.. the way we fight the way v cried cant forget that tym we spent togather .. if i ll be left alone .. i ll live up with yur thoughts .. i can still feel ur presence n it wont leave me alone.. and thats for sure that i ll miss yu till the end ..