what do you think?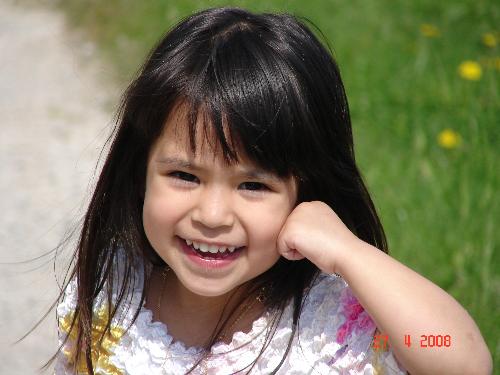 Germany
6 responses

• Philippines
1 Sep 08
your daughter is so CUTE! and I believe she is SMART! her facial feature are same like you but meztiza of course! I wish I can see her and befriend with her, my daughter is only two years old and I find it challenging to raise a toddler now. Have a great day my friend!

• Germany
1 Sep 08
hehehehe thank YOU! sip sip ka talaga hehehe.well i hope we can see each other soon.i am looking forward to meet you. you promised me na pagandahin mo ako !!!!hahahaha.my daughter yes she is smart like her dad. she is easy to be with and you can feed her kamote and saging.she realy likes it.she is not maarti as like other kids.she loves walking bare feet. you will surprised if you know her well.my family impressed her because she is not maarti and opps loves to eat dried fish hahahaha rice and soy sauce hahaha.your little daughter also smart! the way she smile bigay na bigay and i love her curly hairs so much.i always dreamed of it but hmmm we cannot get what we always wish for right?enjoy your day my friend and looking forward to try your beauty tips




• Italy
1 Sep 08
She looks like her mother. Soo cute i always love cute kids and waiting anxiously to have my own.

• Germany
1 Sep 08
thank you so much

well to have your own its not a problem but take your time,enjoy your life being as a single.



• Canada
29 Aug 08
She has your hair and her dad's looks. She has the best of both parents. No one knows how things turn out, We are all from the human race, so anything can turn up. She is going to be a looker when she grows up.

She's starting on that way already. Better watch her when the boys start coming around. You will have to beat off the guys with a stick.


• France
28 Aug 08
She is lovely like Mama, Have a very good smile. Wish the best for all of you guys